Conversation with Shawn on the back porch ten minutes ago:
Me (noticing I am no longer fish belly white): "Looks like I am starting to get a little color."

Shawn: "You call that color?"

Me: "At least I am not glowing anymore."
What are you all up to tonight? BTW- wasn't there supposed to be a new three episode Sherlock Holmes that came out recently? Did I miss it?
*** Update ***
Here is an early contribution to throwback Thursday. Me and my buddies getting ready for a night on the town (likely at the Green Goose) in Fulda 1991. I remember when I could wear pants without a belt, I swear I do.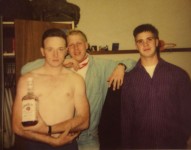 If you will notice (as I did), my fingers are mostly straight and unbroken.