He didn't die in combat, but Shawn and I have been talking about him and sharing stories all day, because we really were the three amigos, so RIP Donald Geoffrey Wood, our best friend (he didn't die in combat, but in a car accident, but I don't give a shit, I think about him almost every day):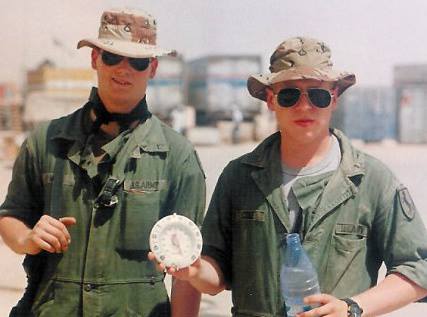 That's us in Kuwait still acclimating to the temperature. We went from the German portion of the Alps near France where it was 30 below to four days later going to KKMC in Saudi Arabia at 120 degrees a day. It totally fucking blew, and I swear the entire unit's attitude was you have to be fucking kidding me. Like, maybe a week in between freezing and desert in a temperate climate so we don't all fucking die. We had to watch each other piss every time we urinated so if anyone was pissing yellow we made them sit in the shade, get an IV, and rehydrate. That was a solid strategy until we all got dysentery from the bottled water.
Here is me and Shawn on R&R in Bahrain at a swim up bar (the short guy was an officer and A-10 pilot, and once we found out what he did and he learned what we did, we were thick as thieves. A-10 pilots are your best friend and I am stunned they are going to phase them out. They're a flying tank of death and we love these guys). We stayed on the Cunard Princess, which was docked there, and then just unleashed ourselves on Bahrain during the day.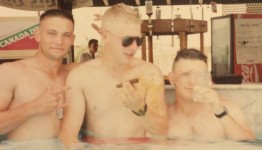 Good times. Tip one to Geoff if you will!