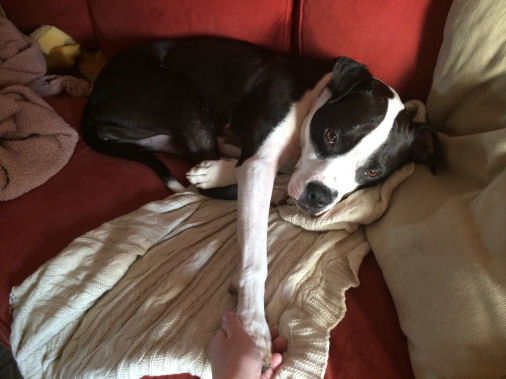 From "longtime BJ reader" Chris:
I have a friend who needs to find a new home for her slightly troubled Pit – Boxer mix. I know the dog personally and she's a very sweet if very high-energy dog, with dog and cat aggression issues, unfortunately. Please see below from my good friend Allie… We live in the Washington DC area but also have roots in Pittsburgh, so anyone around there might be able to help.

Hera does much better around men than women. The dog listens to me and Allie's boyfriend perfectly fine, but has trouble with other females, especially, unfortunately, Allie.

I hope the Balloon Juice community can help – from what I've seen, Juicers can get just about anything done pet-wise, so I'm hopeful.

Hera is a young pit bull / boxer mix that I adopted in March of 2012. I am looking to re-home her because while she is intelligent and affectionate it is becoming apparent that I am not able to give her the structure and companionship she needs to excel. I have met with a behaviorist that diagnosed her with a variety of issues and made a number of suggestions for mitigation or improvement of her symptoms and behavior. This behaviorist's recommendation for a new home was for a retired, empty-nester with no small children, cats, or other dogs around, in a stable, quiet country environment. This person MUST be home during the day, as Hera thrives when she is in contact with her person. This person MUST have experience with high-energy, emotional dogs, and be able to provide her with continued behavioral and obedience training by working with a professional to meet her needs.

Stats:
3 year old female pit bull / boxer mix
Grain allergy – ALL FOOD MUST BE GRAIN FREE
Seasonal allergies – requires occasional steroid spray to manage itchiness
Found at approx. 5 months old.. kept in shelter for the next few months until fostered and then adopted
Fostered at 8 months old, adopted at 9-10 months old

Behavioral traits:
Bad:
Anxiety (likely will require medication)
Fear-based aggression (toward some dogs, all cats due to a strong prey drive, and those who 'hard stare' at her)
Excessive energy

Good:
Incredibly intelligent
Very affectionate
Fast learner
Great in the car
If you know someone who might be interested, or have a lead to a dedicated rescue group, leave a commentor or contact me (click on my name in the right-hand column, annelaurie (at) verizon.net ) and I'll put you in touch with Chris & Allie.