My #TBT contribution: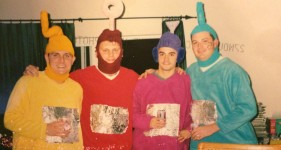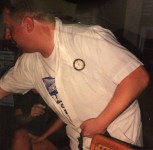 That's me and my running mates circa 1998-2000 in grad school on a Halloween weekend. From left to right, Adam (now a dentist), Chad (a trained nurse but now a coal mine inspector), Ryan (an accountant, I think), and Matt ( a regional sales manager). Still remember the day, as it was an Indian summer day in late October with 70 degree temps but the leaves had changed, and the position of the sun gave everything an orange hue. Adam had just bought a brand new Honda Accord (I still remember thinking how cool it was there was a sunglasses container), and I remember riding down the road to WalMart along the Mon with my four buddies listening to this:
Went to Walmart, bought all the stuff, went home and sewed up and made the costumes, and then partied. I was not one of the teletubbies, but I did dress up as John Daly's caddy. I had a caddy uniform, and on the back put a sign that said:
DALY
.28 BAC
I also carried a golf bag around all night with nothing but a couple drivers and empty tequila and corona bottles to complete the look.
Good times.