I feel just like this: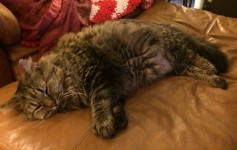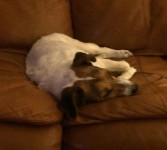 I am so tired of having the same debates over and over again. It's just wearying. No, we shouldn't have a death penalty. Yes abortion should be legal and regulated. No, marijuana should not be illegal. Yes, we should do everything to give everyone the opportunity to vote. No, we don't do popularity contests before we bring home POW's. Yes, gun control makes sense. No, it's not cool to torture. And we're talking about shit I believed when I was a Republican. Now that I am a pinko commie liberal, it's just fucking maddening and I have more issues than I have fingers and toes.
And these people are seriously getting fucking dumber by the day. I can't keep up. The wingnuts will say one thing one day, the next thing the next day, deny the prior statement, and god damnit I have to stop reading the news long enough to cook dinner and brush the dogs and vacuum, and I just can not keep up with the flip flops and the unending stream of bullshit.
Goat, generator, shotgun, machete, some Glenn Beck survival seeds, a radio, and Montana. It makes more sense every day. Fortunately, I have this to snap me out of it: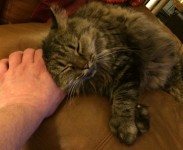 Ear ruffles, underchin skritches, and purring brings you back home every time.