Someday — soon, I hope — I'll get back to writing some meatier stuff.  Today ain't that day.
So, just for now, let me share with you a cautionary tale, broadcast on NPR:
In February, a 55-gallon drum of radioactive waste burst open inside America's only nuclear dump, the Waste Isolation Pilot Plant in New Mexico.

Now investigators believe the cause may have been a pet store purchase gone bad.

"It was the wrong kitty litter," says James Conca, a geochemist in Richland, Wash., who has spent decades in the nuclear waste business.
Wait! Pet litter? Isotopes? Kitten Strangelove?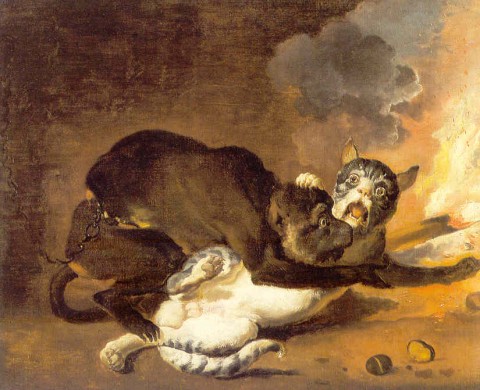 Well, kind of:
Cat litter has been used for years to dispose of nuclear waste. Dump it into a drum of sludge and it will stabilize volatile radioactive chemicals. The litter prevents it from reacting with the environment.
Excellent! It is both a dessert topping and a floor polish.  But what went wrong?
Why, the decadent left in its enclaves on the coasts.  Did you know you can get organic kitty litter?  Why yes, you can…and the radioactive waste folks chose to do so:
"Now that might sound nice, you're trying to be green and all that, but the organic kitty litters are organic," says Conca. Organic litter is made of plant material, which is full of chemical compounds that can react with the nuclear waste.

"They actually are just fuel, and so they're the wrong thing to add," he says. Investigators now believe the litter and waste caused the drum to slowly heat up "sort of like a slow burn charcoal briquette instead of an actual bomb."
After it cooked a while, the barrel couldn't take it any more…
But don't blame  Alice Waters or the slow food movement.  Ultimate responsibility for the safe disposal of radioactive waste falls to the Department of Energy.
Oh — and one more thing. There are over 500 barrels that were likely packed with the wrong stuff.  Precautions are being taken, but dang….
PS:  Organic carrots I get. Organic kitty litter?  This is a thing?  People actually pay money so that Fluffy can poop green?  #yesImanold #grumpytoo
Image:  Abraham Hondius, The Monkey and the Cat, 1670.