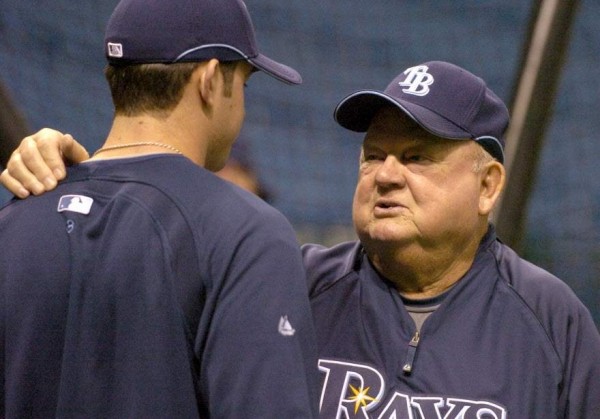 Baseball legend Don Zimmer died yesterday. He was a local icon and senior adviser to the Rays, and news of his passing was announced to fans last night during another losing effort, putting the slump into perspective.
Zimmer, who was in his 80s, made a living off the diamond as a player, manager and staff member for 60+ years. He played and managed all over the league, and he knew he was a lucky man.
I'll never forget the time then-70-something Zim, on the Yankees staff at the time, charged Red Sox ace Pedro Martinez during a playoff game melee. Martinez bounced Zim's head on the ground. Zim later apologized for his behavior. His fury was probably inspired by having had his own melon caved in by a pitch as a young man and spending two weeks in a coma.
He wasn't one to complain, though, and he didn't like it when others complained either. Here's an excerpt from a 2001 article on Zim written by Scott Raab of Esquire:
Zimmer's anything but bitter about his playing days, and he will wave you off if you dare accuse him of courage. Still, despite–or because of–the head-hunting he survived, Zim has no pity for new-school batters who get concussed and then kvetch.

Particularly Mike Piazza of the Mets, who caught a Roger Clemens heater with his head last summer. We're at dinner at a little Italian place near the dog track when I ask Zimmer about it.

"When Piazza said that in his mind, 'No doubt he threw at me,' that stinks. Is Piazza the only sumbitch in America ever got hit in the head with a ball? That's what burned my ass. There's only one man in the world that knows–the guy who threw it. This guy"–Zim's talking about Clemens–"he's mean. He'll pitch inside like you're supposed ta pitch. The other guys are pussyfoot–they don't wanna pitch inside. Piazza made a little man out of himself. Fuckin' cry. I don't care who knows it, I lost a little respect for Piazza. I got hit in the head, and I know the cocksucker threw at me–fuckin' buried me. The Dodgers wanted me to say that, and so did the press. But even though in my heart I knew, I'd never say that. The prick never called me, never sent a get-well card, nothin'. I was in the hospital twenty fuckin' days, I never heard from him. But I'd still never say that he threw at me purposely. Even though everybody knew this was a nasty cocksucker–there's always the one chance that he didn't, that the ball got away."

You fancy old school? That's old old school, brother.
Anyway, Zim will be missed in the Tampa Bay area and throughout the baseball universe. Rest in peace, Don Zimmer.