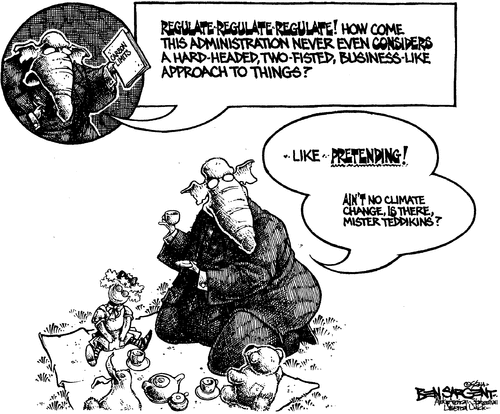 (Ben Sargent via GoComics.com)
.
Jonathan Chait, at NYMag:
… On January 20, 2009, when Obama delivered his inaugural address as president, he outlined his coming domestic agenda in two sentences summarizing the challenges he identified: "Homes have been lost, jobs shed, businesses shuttered. Our health care is too costly, our schools fail too many, and each day brings further evidence that the ways we use energy strengthen our adversaries and threaten our planet." Those were the four major areas of domestic reform: economic recovery measures, health-care reform, a response to climate change, and education reform… With the announcement of the largest piece of his environmental program last Monday, Obama has now accomplished major policy responses on all these things. There is enormous room left to debate whether Obama's agenda in all these areas qualifies as good or bad, but "ineffectual" seems as though it should be ruled out at this point…

All of Obama's domestic reforms involved compromises and imperfections, a quality they have in common with every major accomplishment in history. Also like the major accomplishments of the past, Obama's will undergo future revision. All will continue to generate some level of conservative recrimination — one can still find conservatives here and there determined to phase out Social Security or outlaw the U.S. income tax. Most of them will recede into the backdrop of the policy landscape and eventually serve as the baseline against which to portray future liberals as the true radicals, just as Republicans now embrace Medicare. It is also possible that the remaining two and a half years will envelop Obama in some kind of disaster, like Iran-Contra, Vietnam, or Watergate. What's no longer possible is to imagine that historians will look back at Obama's presidency and conclude not much got done.
***********
[My emphasis] By all means, read the whole thing (it's not long!).
A resolute spirit of positivity having been established, what's on the agenda for the start of the new week?