Has today's mass shooting happened yet? DougJ has the latest on the two Gadsden flag-carrying white supremacists who killed a couple of cops, a Walmart shopper and then themselves in Vegas yesterday.
A madman's attempt to create mayhem at a Georgia courthouse on Friday was cut short when the heavily armed suspect was killed by police after wounding a cop.
Thursday's shooting at Seattle Pacific University ended when a good guy with pepper spray stopped a bad guy with a gun as he was reloading.
Balloon Juice commenter Skerry's daughter was on campus when that shooting happened:
My daughter was on the campus of the latest campus shooting in Seattle. She is physically fine, but very emotionally upset. I am so fucking angry right now. Goddamn ammosexuals. How many do we have to sacrifice before something fucking gets done. A shooting at my local mall in Maryland earlier this year. A shooting at my alma mater, Purdue University, this year. It is too fucking close to home and happening way too much.

I used to be pretty open about gun rights. Grew up with a hunter father. Grandparents had a farm in WV. Guns around. Married a hunter. But weapons were seen as tools. Not as fetishes. Old school NRA before the money took over. Locked up away from children. Not paraded around on city streets and in restaurants and the fucking Target store. Wacko in Lafayette, IN walking around with a rifle to protest loss of a driver's license.

I'm ready to say take them all away. Yes, I'm turning into a "gun-grabber". Keep them stored at a range. Check them in/out for hunting with proper licensing and training. Keep them off my streets and away from my children.
The day after Skerry's daughter was terrorized at her college, I had the following text exchange with my daughter, who was then at her school for the last day of 10th grade: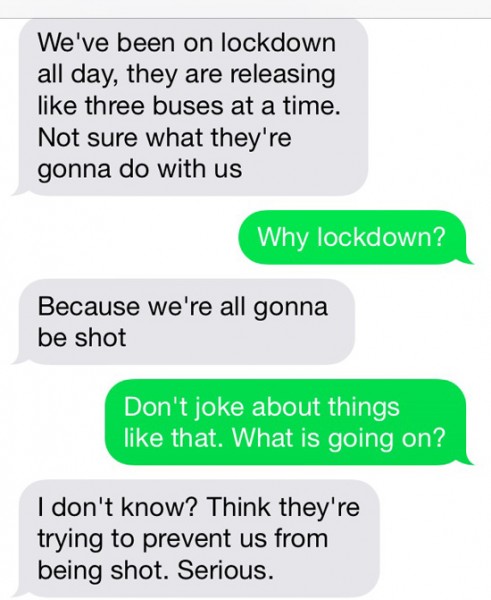 As it turns out, the school administrators locked the facility down "out of an abundance of caution" because a gun-toting felon down the street from the school had riddled an acquaintance with bullets and then fled the scene, heading in the general direction of the school. He was later caught, and the kids were never in any danger.
But this is the country we live in now, where children aren't surprised by the prospect of being endangered by armed lunatics at school. And let me tell you, as a parent, your blood runs cold when you read something like that.
Richard Martinez, whose 20-year-old son was killed by the misogynist gun terrorist in California a couple of weeks ago, has had the courage to call out the NRA and gutless lawmakers who are its servile lackeys. Before him, the families of the innocent elementary school kids and teachers who were slaughtered by a Bushmaster-toting nut at Sandy Hook did all they could to support common-sense gun safety legislation, as did the president and many Democrats and even a Republican or two in Congress. Nothing happened.
In one of the many threads following a post on a mass shooting at this blog, someone said nothing would change until the majority of people had been affected directly by a mass shooting. (I'd try to find the comment to attribute it, but there have been so goddamned many mass shootings and threads about them that I don't know where to start.) I think there's something to that, though I hope that doesn't mean we'll have to get to the point where we all know someone who died in a mass shooting or was on the scene and terrorized by a gunman.
Awhile back, I highlighted an teeny-tiny victory against the ammosexuals – the voluntary rollback of the "hey, let's get together and carry our AR-15s into Chipotle" strategy, which even the NRA condemned as stupid and counterproductive before walking back the one common-sense thing they'd said on the gun issue in at least a generation.
For a moment, it seemed the NRA recognized the danger the increasing kookification of the gun culture in this country could have on their gun manufacturer paymasters' bottom line in the long run, but in the end, the NRA was unable to corral the monster they spent so much time and energy creating.
I'm with Skerry on this — I grew up in a hunting family in a rural area, and while I don't personally have or want a gun, I can understand why hunters and country folks find them necessary. I could even understand why adults might keep a secured firearm in their own home for personal defense, even though I think it's a stupid strategy since they're far more likely to get depressed and blow their own brains out or kill their spouse in a jealous rage than stop a home invader.
But these morons who insist on carrying guns everywhere — concealed or not — and these idiots who pose an insurmountable obstacle to even the most common-sense legislation like closing the gun show loophole or improving background checks are turning me into a gun-grabber too.
We're ass-deep in guns in this country, but the rate of gun ownership is declining. The kooks are setting the gun-owner policy agenda, and there is terrorism and violence implicit even in the names of their organizations, e.g., "Come and Take It."
Think about what that means for a minute. Gun owners who aren't goddamned idiots need to rein these motherfuckers in, or we (as in We the People, the non-gun owning majority, backed by our local, state and federal government agencies) WILL come and take it, not just from the assholes but from you.
Don't think this worm can't be turned. Sooner or later, the tipping point will be reached, either in a shooting on such a massive scale that the currently complacent will rightly recognize it as yet another intolerable incidence of domestic terrorism or as the more localized atrocities affect a critical mass of people. Either way, prying the guns out of your cold, dead hands is becoming a more attractive prospect every fucking day.