…and my profit on't/Is, I know how to curse."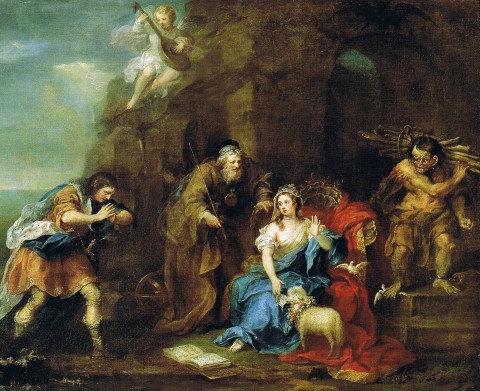 You know, I've been thinking:  this Billy Shakespeare guy could write a little.
Which is to say that I haven't got a lot of unprintable words about a lot of things these days.  Like Prospero, the object of Caliban's curses, I have a child.  Like parents…Hell — like adults with or without children, who can still imagine a world that exceeds their personal span of years — I want my son to experience a better reality than I did, on as many axes of possiblity as I can think of.
So recent climate change news doesn't sit well.  Our failed political system is no balm to shattered nerves.*  Dante would have had fun limning George F**king Will's torments  — I'm not sure whether the poet would have placed Mr. Will in the eighth, ninth or tenth Bolga of the Eight Circle of Satan's domain, but the torments prescribed for any of those destinations would do, thank you very much.  And there's so much more.
But at least for the day, the curses that I would most like to level go to those behind those wielding the guns that so wretchedly cut holes in our lives, day after fucking day.
And I got nothing to say that hasn't been said, sometimes by me.  Except that we need to say so again, every time, so that bit by infinitely depressingly small bit we can undo the legitimacy of gun nuttery in our culture.  A couple of threads down, DougJ talked of those glory days when McArdle et al. talked of the lack of danger to our political life demonstrated by open carry nuts.  I blew a gasket at that, writing in 2009 (slightly edited):
Those who suggest that the presence of guns openly carried implies a series of risks — how many concealed weapons might be present; how much organization there might be in the insertion of armed protesters into the fabric of peaceful protest; how long it will take for over-the-top violent rhetoric to find a truly receptive ear amongst all these "patriots" — are not saying that any individual gun-toting asshole is a thug bent on murder.

They are saying that the more useful idiots like McArdle legitimize the presence of guns in political discourse, the greater the risk we take that the guns will stop being symbols, and will reappear as the tools they are…tools that are capable of dealing deadly violence at a distance.

McArdle would rather not dwell on that ugly fact of guns.  They are not toys.  They are not megaphones.  They do not utter cute or funny or pointed commentary on the state of American polity today.  They dispatch useful weights of metal at high speeds across considerable spaces with an accuracy restricted by the quality of the machine and the skill of its operator.  Reality matters.

McArdle writes:  "But it is pleasurable to tell yourself you believe terrible things about your enemies, and so you don't examine the thought until someone says, "Well, how about $500 on it, then?" and you think about how much it would hurt to lose $500 on, and realize that you don't actually have any reason to believe it's all that likely."

So thee it is:  he validity of the argument that bringing guns to political rallies is (a) dangerous and (b) if unchecked, likely to increase the risk of an act of political violence turns on whether or not someone will lay a bet with Ms. McArdle…
That's five years ago.  Before Gabby Giffords, before the mass shootings, before the claque cheered on Bundy to a (so-far averted, thankfully) murderously provoked suicide by cop, before two domestic terrorists brandishing the emblems of a movement celebrated by our most successful political cable channel, Fox News, committed yesterday utterly unprovoked murder.
I don't think we face mass insurrection.  I do think we face a vicious rear-guard action by a small subset of a class and community that is losing the last wisps of pretension to dominance.  But most of all, I believe we need to cut these people off from the aid and comfort the right-of-center elite is giving to the notion of armed violence as a form of political expression.  I don't hold out near-term help that this will happen, but I do, in my rare happy moments, think we actually are moving closer to that day.
But today…I'm with the monster on the isle.   I know how to curse.
*Inevitable sequel here.  Morans!
Image:  William Hogarth, The Tempest, c. 1736.