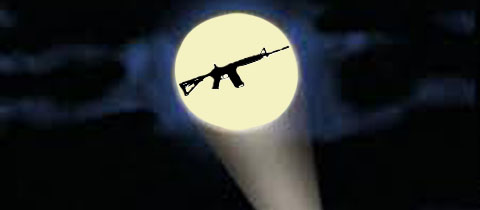 Chief Scott Anderson of the Troutdale Police Department just briefed the media on the investigation so far into yesterday's school shooting:*
The Oregon State Medical Examiner's Office completed the autopsy this morning on the shooter and has positively identified him as 15-year-old Jared Michael Padgett.

He was a freshman at Reynolds High School. He arrived at school yesterday morning on the school bus, carrying a guitar case and a duffel bag. He entered the boys' locker room in the building that housed the gymnasium. He spent a period of time in the locker room, and during that time murdered a fellow student.

We have not established any link between the student and the shooter.

Teacher Todd Rispler encountered the shooter in the locker room. As he was fleeing, Mr. Rispler was shot once, suffering a grazing wound to his hip. Mr. Rispler made his way to the office, where he was able to notify the administration, which then immediately initiated the lockdown.

As the shooter was moving through the main hallway, he encountered officers who were starting to enter from two separate doorways. At that time, he moved into a small restroom. We know there was an exchange of gunfire between one of the first responding officers and the shooter. Based on the autopsy this morning, we do know that the shooter died of a self-inflected gunshot wound.

The shooter used an AR-15 type rifle in the attack and carried, but did not use, a semi-automatic handgun. Investigators also recovered nine loaded magazines with the capability of holding several hundred rounds.

The shooter also had a large knife. He was wearing a non-ballistic vest used for carrying ammunition and other items. He also was wearing a multi-sport helmet with a camouflage design.

The shooter obtained the weapons from his family home. The weapons had been secured, but he defeated the security measures.
It'll be interesting to see what sort of security measures the parents used to keep their teenage son from weapons the parents would not be allowed to own in a sane country. Whatever it was, it was clearly inadequate, so now two 15-year-olds are dead.
Per valued commenter Skerry, the Multnomah County GOP has raffled off three AR-15s in less than a year, once in honor of Abraham Lincoln and MLK, two men who were shot to death. I don't know whether or not one of the prize guns was the actual murder weapon, but it's clear in any case that the Multnomah County GOP has bludgeoned irony to death.
Here's what I think is a good working definition of reasonable gun control measures from valued commenter Omnes Omnibus in a previous thread:
Get rid of detachable magazines. Their only purpose at any size is to make reloading faster. Internal, five round maximum magazines for rifles and pump shotguns. Revolvers only for hand gun and set the bar high for concealed carry. Ban semi-auto weapons for civilian use. Ban open carry except at ranges and on hunting land. Mandate trigger locks and/or gun safes.
Do you object to any of that? Then you are part of the problem, and I'm really not interested in hearing anymore of your fucking excuses, though feel free to babble on about your Precious in comments.
H/T: Valued commenter Julie