D.R. Tucker, weekend subbing at Political Animal, muses on Republicans using Mitt freaking Romney and 2016 in the same sentence.
Seriously, what is the question to which Romney is the answer…?" Who trusts Romney? Who likes him? Who thinks he could actually govern successfully?
You could lose a lot of money and a lunch trying to guess what goes on in some Republicans' heads. If someone forced me to guess I'd think they probably want to rally behind whoever will lose to Hillary Clinton in the least embarrassing way. Granted even Warren Buffett wants to give Mitt a wedgie when captain zero self-awareness channels the resentments of the 1% and douchey, but put yourself in the not-so-crazy GOPer's place. Christie and Scott Walker, the obvious next in line and his understudy, somehow ended up in a fast race to first indicted. Jeb has that plutonium last name. Paul Ryan might be doing something if anyone gave enough of a crap to check, but no one cares about Paul Ryan. That leaves Pete King of New York to carry the sane banner, and everyone loves it when a guy who looks like a grouper tells the base to PULL YOUR PANTS UP AND EAT YOUR DAMN VEGETABLES.
Now revisit who excited the base in 2012, a year when the slope of wingnut madness had not reached a second derivative inflection point.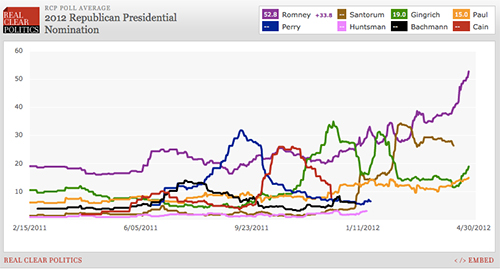 At various points a national primary vote would have anointed Mitt Romney, Rick Perry, Romney, Hermann Cain, Newt Gingrich, Romney, Santorum (in brown, ha) and Romney. With FOX pushing the base on one side and Cantor madness driving Reps to serve every nutty flight of id, What caliber of shiny objects do you think the primary voting base will run after in 2016? Mitt might lose to a turnip but you know he will not flame out in some way that humiliates the whole party and sends an unwashable stink far down the ballot.