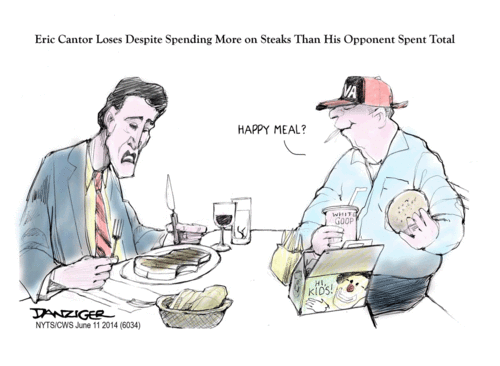 The NYTimes explains why Big Bidniz has a serious sad for the Young Gun Lost:
… While he was often an adversary to both the Tea Party and Democrats in Congress, Mr. Cantor, a Republican and the House majority leader, was also a powerful ally of business big and small, from giants like Boeing to the many independently owned manufacturers and wholesalers that rely on the federal government for financial support.

His loss at the hands of David Brat, a Tea Party-inspired economics professor who campaigned on throwing corrupt Wall Street bankers in jail, railed against crony capitalism and insisted that immigration reform would only reward lawbreakers, spurred business leaders to mobilize to preserve their clout in Congress. Already uneasy over what they see as an especially hostile strain of anticorporate populism growing within the conservative movement, and threatening the traditional corporate-friendly centers of power inside the Republican Party, many businesses fear the loss of some of their strongest champions on Capitol Hill…

Leaders in the financial community still have a formidable force of allied lawmakers and hired lobbyists in Washington. But several major initiatives that business hoped to see through Congress this year are in doubt. There is the reauthorization of the Export-Import Bank, a vital line of support for small businesses and large manufacturers, immigration reform and financing for the nation's highway system…

The majority leader stopped a provision — reviled by the industry — in the Stock Act of 2012 that would have required hedge funds to disclose more about how they gather market-sensitive intelligence. He battled with conservative lawmakers to extend the Terrorism Risk Insurance Act, a top priority of the insurance industry, which has helped it recover from losses after the Sept. 11 attacks. He helped scuttle White House proposals to collect more taxes from private equity firms. His wife, Diana, has had a career in banking, working for Goldman Sachs and New York Private Bank & Trust….

"Cantor was the hub for finance, the hub for a host of big corporations that could trust him to get things done," said Sean West, the head of United States analysis for the Eurasia Group, which advises corporations about political risk. "He was the one standing between the conservative pitchforks and the business community on a whole host of issues."…
The redoubtable TBogg has a simple explanation for Cantor's surprise loss:
… Let us add to the cornucopia of reasons why Eric Cantor will soon be out of a civil service job and forced to make millions as a lobbyist in an effort to keep himself knee-deep in ribeyes.

Eric Cantor is a dick.

One need only spend a few minutes watching Cantor on TV to realize that the only way he could be more dickish is if he was driving a black BMW while wearing Google Glasses. He's smarmy in a passive aggressive way and one can imagine that same genteel southern accent may have once been used used by a landowner as he explained to a sharecropper that he's going to need a bigger cut to cover the cost of a broken shovel…

Virginians in Cantor's district no doubt chose one from column A and one from column B from the I Hate Eric Cantor menu above before ordering him out of the House. But years from now, when discussing his political demise, the details will seem a little fuzzy, the specific reasons lost in the mists of time. Eventually someone will say, "Why exactly did we vote him out?" the answer will be, "Well, he was kind of a dick."

And everyone will agree….