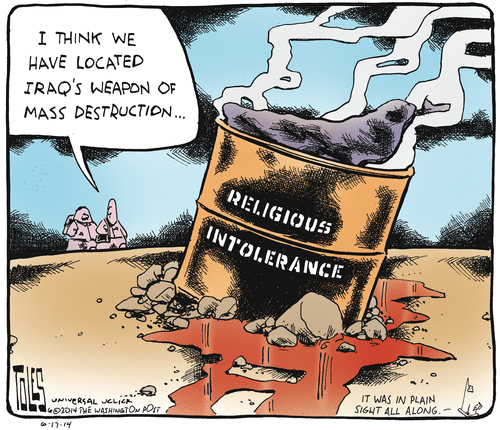 (Tom Toles via GoComics.com)
"Gary Brecher" (aka John Dolan), at PandoDaily, says "Don't fall for the hype… ":
… ISIS is a sectarian Sunni militia—that's all. A big one, as militias go, with something like 10,000 fighters. Most of them are Iraqi, a few are Syrian, and a few hundred are those famous "European jihadis" who draw press attention out of all relation to their negligible combat value. The real strength of ISIS comes from its Chechen fighters, up to a thousand of them. A thousand Chechens is a serious force, and a terrifying one if they're bearing down on your neighborhood. Chechens are the scariest fighters, pound-for-pound, in the world.

But we're still talking about a conventional military force smaller than a division. That's a real but very limited amount of combat power. What this means is that, no matter how many scare headlines you read, ISIS will never take Baghdad, let alone Shia cities to the south like Karbala. It won't be able to dent the Kurds' territory to the north, either. All it can do—all it has been doing, by moving into Sunni cities like Mosul and Tikrit—is to complete the partition of Iraq begun by our dear ex-president Bush in 2003. By crushing Saddam's Sunni-led Iraq, the Americans made partition inevitable. In fact, Iraq has been partitioned ever since the invasion; it's just been partitioned badly, into two parts instead of the natural three: the Kurdish north, and the remainder occupied by a weak sectarian Shia force going by the name of "The Iraqi Army." The center of the country, the so-called "Sunni Triangle," had no share in this partition and was under the inept, weak rule of the Shia army…

ISIS has always been good at generating scary stories about itself, like the notion that it was kicked out of Al Qaeda for being "too extreme." It's true that ISIS has a beef with Zawahiri, the nominal head of Al Qaeda, but the issue isn't extremism. Their quarrel was a turf war about who would get the Al Qaeda franchise in Syria, and it just showed ISIS's most pronounced characteristic in action: A real knack for moving in on vulnerable turf.

In fact, ISIS's quarrel with Zawahiri was a lot like a corporate boardroom feud. It's always worth remembering that Jihadis are just friggin' people, and their disagreements tend to be about very ordinary organizational issues. Granted, it's a little harder to see that when they solve those disagreements with public beheadings and overly-cinematic rituals, but at heart this is just standard human behavior—primates squabbling for rank and power, Game of Thrones with Islamic voiceover…

ISIS now controls most of Anbar as well as a huge chunk of eastern and central Syria. It's a de facto Sunni state, straddling the Syria/Iraq border between Kurdish and Shia territory.

And that's as far as it will go. ISIS has done well to take back its natural constituency, the Sunni center of Iraq. It will push against the Shia to the south, but they'll fight much better on their own turf. And if it has any sense, it won't even try to push against the Persh Merga. I used to see the Pesh Merga every day, and they ain't nobody to mess with…
Please do read the whole thing before jumping on your favorite hobbyhorse. Mr. Dolan is not a Very Serious Person, and will never be welcome in the Village Media green rooms, but his predictive accuracy in this area has been morbidly correct.