ISIS is a fundamentally a Sunni Arab militia which has been able to consolidate its power from the other major armed stakeholders in the Sunni dominated regions of Iraq.  The tribal levies that made up the Awakening/Sons of Iraq group (as well as the vast majority of the effective insurgent groups) have been more than content to allow ISIS a free rein.  That will change if ISIS is too nasty to Sunnis.  The Sunni manned  elements of the Iraqi Army did not give a fuck and walked away from Mosul and Tikrit.  Now, Tal Afar has been taken by ISIS infantry.  It looks like Baghdad is threatened, but two maps and a little history strongly suggests that the US embassy in Baghdad nor the rest of the city is under any serious threat.
Baghdad in 2003 was a mixed sectarian city with a dominant Sunni Arab political structure: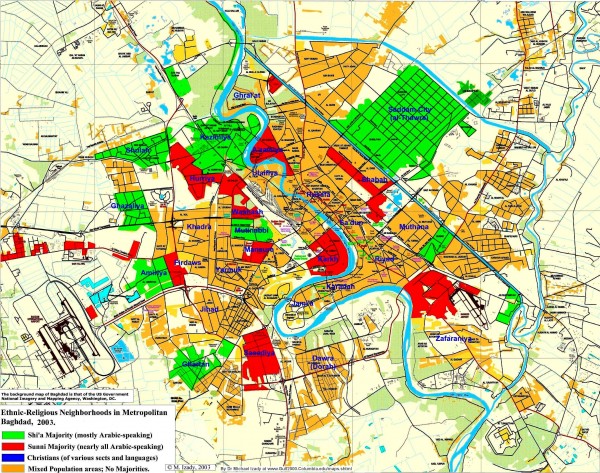 Baghdad in 2009, after a surge of ethnic cleansing aided by power tools to skulls, became a Shi'ite dominated city with several major militias able to create and hold no-go zones against anything short of deliberate heavy combined arms attacks by US forces: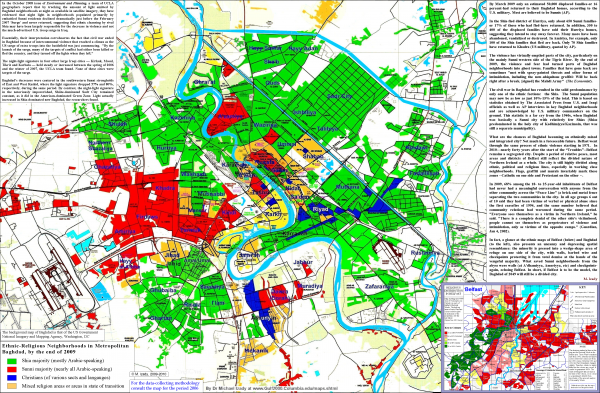 So far ISIS has not faced anyone who has wanted to fight.  The major powers in the Sunni areas, the tribal groups, are standing aside, and the Iraqi Army so far has decided that they don't care about the result.  However, ISIS has only attempted to grab low hanging fruit in Sunni dominated areas.  If they try to push to Baghdad, there are large groups of organized, armed men who have plenty of experience fighting an essentially defensive campaign in urban environments.  The Sadrist Mahdi Army and other Shi'ite militias that gained control of Baghdad would be fighting on their turf for their families and their homes with support of the people.  And this time, they would have access to heavy weaponry and a viable logistics pipeline.
Baghdad falling to ISIS in the next six months is less likely than the Republican Governor's Association endorsing non-waivered Medicaid expansion for all hold-out states in that time period.