Here's Patsy Marie looking particularly beatific (and also fat):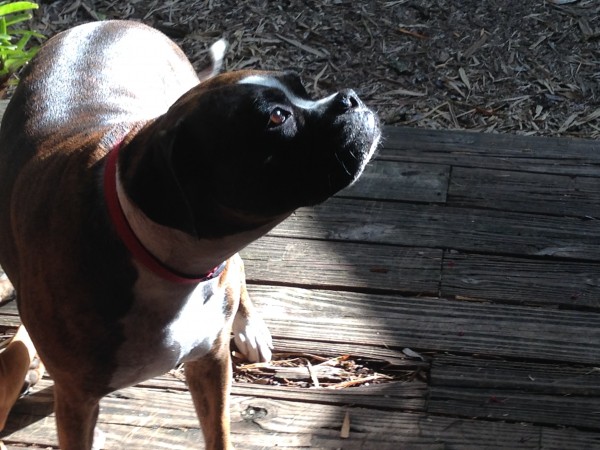 Blessed are the pure in heart, for they will see Dog.
Also, someone (and by that, I mean someone who is not ME) needs to replace that board in the potting shed.
Please feel free to discuss whatever since this is an open thread. But I have an observation and a question: Every time the topic of the 2016 presidential race comes up, particularly in connection with She Who Must Not Be Named, at least one or two commenters deplore the fact that we're not focusing on the midterm elections instead.
It's a good point; we've all seen the consequences of allowing a pack of ravening teaturds to take over the House. But is it really surprising that a forum that includes people from all over the country and observers of US politics from around the world wouldn't cover* local races all that closely, unless it's a high-profile campaign with national implications or a local manifestation of a movement with nationwide impact, like Moral Mondays?
I've kinda assumed that politically aware folks like the commentariat here are plugged into their local races. I've also assumed you don't particularly give a shit which appalling yay-hoo Python Swamp, FL sends to Congress, but maybe you do? What are your suggestions for improving midterm coverage here at Balloon Juice?
*And by "cover," I mean discuss in a bloggy fashion. I don't pretend to be a reporter.