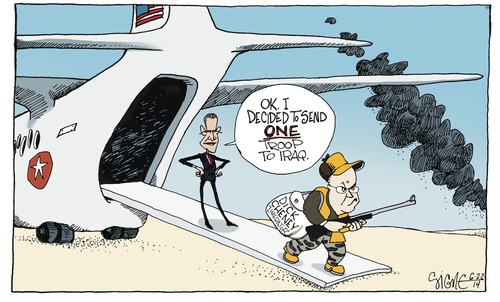 (Signe Wikinson via GoComics.com)
Epic rant from Stephen Walt in Foreign Policy, "Being A Neocon Means Never Having to Say You're Sorry":
From 2001 until sometime around 2006, the United States followed the core neoconservative foreign-policy program. The disastrous results of this vast social science experiment could not be clearer. The neoconservative program cost the United States several trillion dollars and thousands dead and wounded American soldiers, and it sowed carnage and chaos in Iraq and elsewhere…

… [G]iven their past failures, what explains neoconservatism's apparent immunity from any degree of accountability? How can a group of people be so wrong so often and at such high cost, yet still retain considerable respect and influence in high circles? For America to pay the slightest heed to neoconservatives is like asking Wile E. Coyote how to catch the Road Runner, seeking marital advice from the late Mickey Rooney, or letting Bernie Madoff handle your retirement portfolio…

The zombie-like ability to maintain influence and status in the face of overwhelming evidence tells you that F. Scott Fitzgerald was wrong: There are in fact an infinite number of "second chances" in American life and little or no accountability in the U.S. political system. The neocons' staying power also reminds us that the United States can get away with irresponsible public discourse because it is very, very secure. Iraq was a disaster, and it helped pave the way to defeat in Afghanistan, but at the end of the day the United States will come home and probably be just fine. True, thousands of our fellow citizens would be alive and well today had we never listened to the neoconservatives' fantasies, and Americans would be more popular abroad and more prosperous at home if their prescriptions from 1993 forward had been ritually ignored. Hundreds of thousands of Iraqis would be alive too, and the Middle East would probably be in somewhat better condition (it could hardly be worse).

What, if anything, might reduce the neoconservative influence to its proper dimension (that is to say, almost nil)? I wish I knew, for if the past ten years haven't discredited them, it's not obvious what would. No doubt leaders in Moscow and Beijing derive great comfort from that fact: For what better way to ensure that the United States continues to lurch from crisis to crisis, and from quagmire to quagmire? Until our society gets better at listening to those who are consistently right instead of those who are reliably wrong, we will repeat the same mistakes and achieve the same dismal results. Not that the neoconservatives will care.
***********
Apart from trying not to repeat the same mistakes, what's on the agenda for the start of the week?