Is this a goofy-ass dog, or what?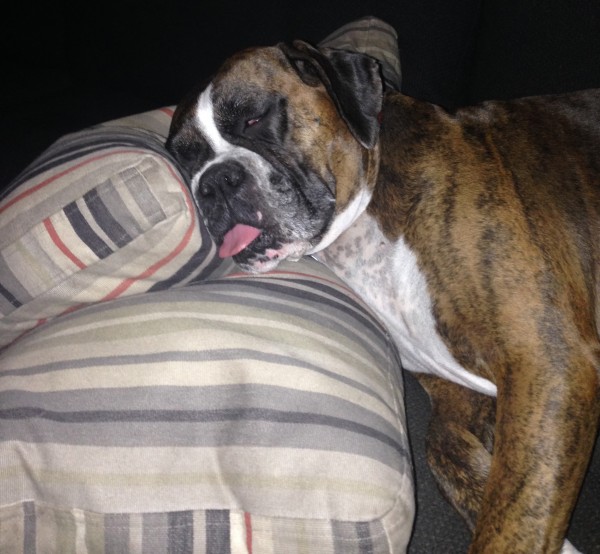 She sleeps like that all the time, with her eyes partially open, her tongue hanging out and snoring like a band-saw. She has an active dream life; quite frequently she'll start twitching her paws, then begin to flail around wildly, kicking pillows off the sofa and raking any creature within reach with her claws. Stop disturbing the peace, Patsy!
Here's a story from Gawker (I know, I know) about a failed carjacking. Summary: A group of teenage boys took a 71-year-old woman's car keys at gunpoint but could not make a getaway because the jacked vehicle had a manual transmission and the stupid shits didn't know how to drive a stick. They were forced to flee on foot instead.
I learned to drive on a stick and taught my 15-year-old to drive on a stick too. Recently, I traded in my manual transmission car, and the salesperson tried to ding me on the trade-in value by saying he had trouble unloading sticks, which may be the case, but that ain't my problem.
Anyhoo, my daughter's first car, a family hand-me-down, will also be a stick, and it gladdens my heart to know that her dumb little friends probably won't know how to drive it, nor would dim-witted thieves know how to steal it. One less thing!
Please feel free to discuss whatever.