Randomness.
Watching the Leftovers. It's kind of interesting.
Ok, this isn't that much of a spoiler for True Blood, so I don't feel bad sharing it before West Coast peeps watch, but was I the only one who immediately yelled "Why the fuck are you shooting a BB gun at a bear?"
One of the things that is super funny about my pets is that whenever I have company, they all have their favorite people. Kind of like a hierarchy of who they love the most. Steve and Shawn are inseparable, but when Harry and Chatman are over, Lily is draw to Harry, Rosie to Chatman. Rosie also really loves Walt, but there is one man who is Rosie's #1. My fraternity brother Christion. As soon as he comes over, she is on his lap and just with him the entire time he is here.
Rosie is still kind of fucked up, even though she has been here for several years. She is still a little bit bipolar with everyone, and Shawn and I think it was because she was abused by someone she really trusted. With most people, including me, if you rub her the wrong way or upset her she'll go all Snarls Barkley on your ass. She never bites, but she lets you know to back the fuck up. Things are not kosher atm.
Sometimes she actually gets so happy when she is having good time that I think her wires get crossed and she starts getting snarly, and you just look at her and say "What are you doing, silly girl?" and give her a second and she snaps out of it. I really do think she was traumatized and was not given a stable environment, and yellings were as random as pettings.
But she never does that with Christion, and is draped on him or tucked up next to him all night long. I seriously think they are soul mates, but I think most of it is that he moves so slowly and cautiously, as opposed to me, who goes banging around the house like a cave man.
At any rate, Christion fell asleep on the couch the other night, and as soon as she knew he was asleep and defenseless, she draped herself across his lap and stood guard. Anyone even looked at him or got close to him got the snarls.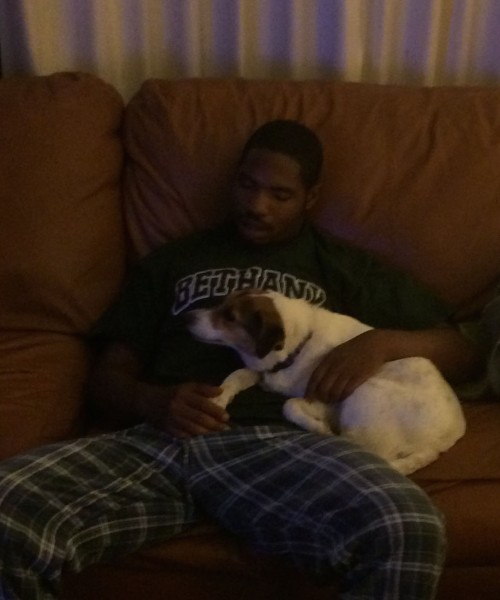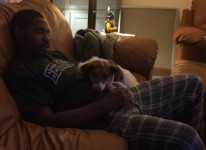 I dunno if you can tell the murderous intent in her eyes in the second photo, but she was totally resource guarding there. You got within three feet of her man Christion, and you got fangs and the clear message to back off, beeoch.
It's just so cool how animals pick their humans.