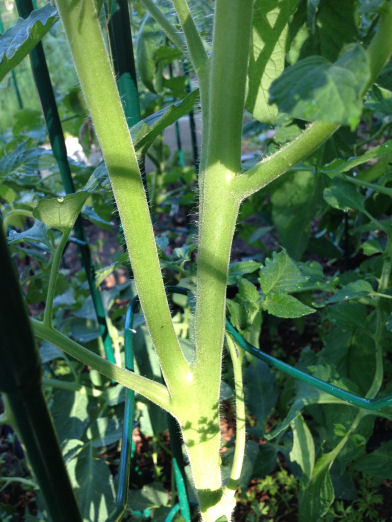 From commentor Currants:
I'm wondering why I don't ever remember pruning tomatoes when I was younger, and whether it's just the heirloom types that need it, and how does one ever stay on top of it? And what do you do when you've missed them, as is evident in the photos?

Also, looks like the one below (it's a Japanese Black Trifele) has some disease–it's the only one with it, and every single one I've ever gotten (from Territorial Seed) has had the same thing (but none of the other tomatoes from there do).

I'm about to give up on these kinds of tomatoes. I rarely get very many tomatoes and they're a lot of work. Or maybe it's just that I R DOIN IT ALL RONG. Always. Any ideas?
I'm curious myself to see what better gardeners have to say about this — I never bother to prune my tomatoes, because I'd rather play find-the-fruit and put up with messy, sprawling plants than make the effort to keep them tidy…