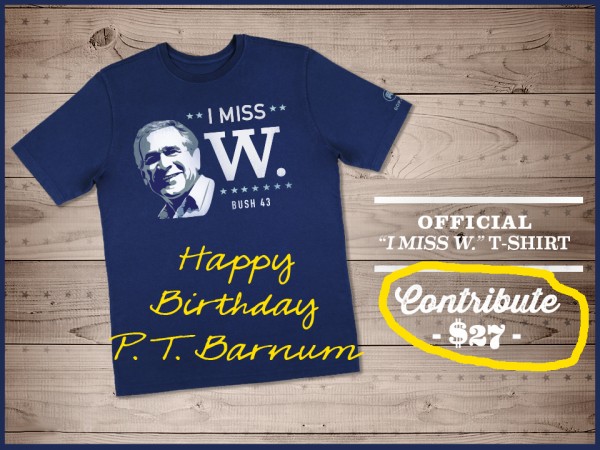 Perhaps the GOP just wanted to celebrate P.T Barnum's birthday as the true father our Country.
How else to explain this appeal to the suckers who were born every minute over the last few decades who still might believe in the greatness of George W Bush.
The price is a dead give away that this is excellent snark.
$27 is the crazification factor at work and a direct appeal to the neo-Confederate hive animating the long dead corpse of what was once the Republican Party.
As the Party of Lincoln is now little more than an army of White Walkers (emphasis on the "white"), this kind of amusing sucker bait is not a surprise. 27% of their base will surely pay $27 to proudly wear a shirt that confirms their stupidity for all to see.
Such a bamboozle is a wonderful way to celebrate P.T. Barnum's birthday.
I've been on a long walk-about which has taken me far from regular blogging, but that's another story for later.
Good to be back.
How about an open thread.
Cheers