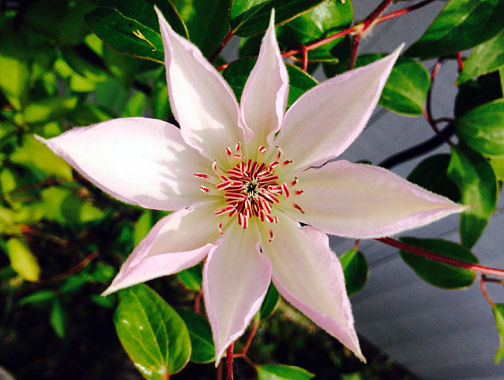 .
From faithful commentor Marvel:
Here's a rather large sip from the Summer garden hose: a quick still-life of the garden today. Above, the first pale clematis — so delicate.

The blueberry plants are at least five years old now — putting on a lovely bunch of fruit this year.

A raft of bed-planted potatoes are just now flowering, their lovely 'tell' that new potatoes are developing belowground.

We added some fresh plants to our years-old strawberry patch — they've been delivering sweet berries for over a month now.

These marzanos (San Marzano? Super Marzano? Can't remember) are coming in pretty early. The rest of the tomtoes are just getting jungle-bushy with plenty of of yellow flowers.

And so it begins: the first yellow zuke. Only planted three zukes this year, so that works out to, what?, six-hundred pounds or something???
***********

How are things going in your gardens this week?