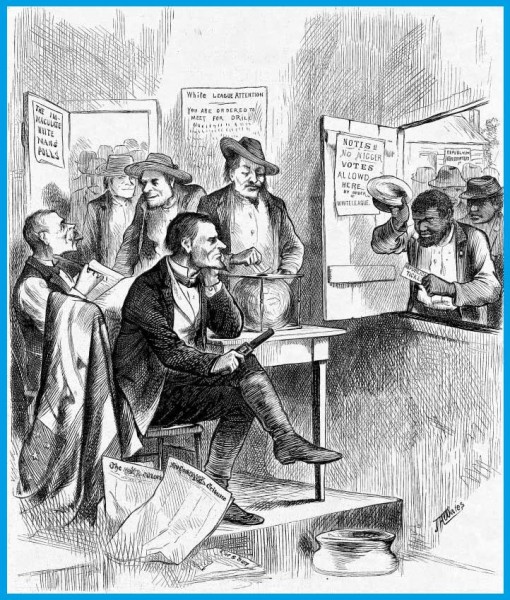 I get that the White Walkers of the Tea Party are upset that their candidate, Chris McDaniel, did not win the run-off election in Mississippi. An election going the other way is always a disappointment to any partisan left, right or extreme right. This time, the salt in their pain of defeat seems to be that Thad Cochran shamelessly appealed to black folks to vote in what should have been (in the Teatard view) a white's only conservative primary–because beyond the officially sanctioned token minorities (who are known, named and on teevee), all Republicans conservatives are always assumed to be white.
The race betrayal of Cochran must have NBF spinning in his grave. No wonder McDaniel and the Teatards are outraged and pumping up the rhetoric*:
"Let's make it very clear today," McDaniel said at July 5 "freedom rally." "After what we saw the other night, which is clearly the most unethical election in the history of this state…and might…and might…very well be the most illegal election in the history of this state [emphasis added]. We will let the word go forth from this time and place to friend and for alike. The people of this state will do anything to preserve the torch of liberty. We will bear any burden, fight any foe, to make sure that corruption is finally rooted out of the election process in this state."
This was a ballsy statement. After all we are talking about Mississippi, a place where violent intimidation of voters was born. It was the Mississippi Plan of 1874 that the South used to end Reconstruction and strip Afirican-Americans of their rights for almost another hundred years. White terrorists murdered around 300 citizens as part of the 1874 elections and another 150 as part of the 1876 election. This model of White Terrorism was then exported throughout the South by motivational speakers and guidebooks.
I somehow think the Mississippi elections of 1874 and 1876 were–without question–the most unethical elections in the long and sad history of that perennially always failing state…and quite likely, the most illegal elections in the history of any fucking State.
(For those who like to dig into original source material, this Senate testimony from 1877 as to denial of elective franchise in Mississippi during the elections of 1875 and 1876 might help to underscore the lie to the Teatardick worldview).
And yet, because Negroes were involved, I'm sure the "free" citizens of Teatardickistan will disagree and think me mad.
How about and open thread…
Cheers
*Apologies for the Buzzfeed link. Here is one to the GOS.