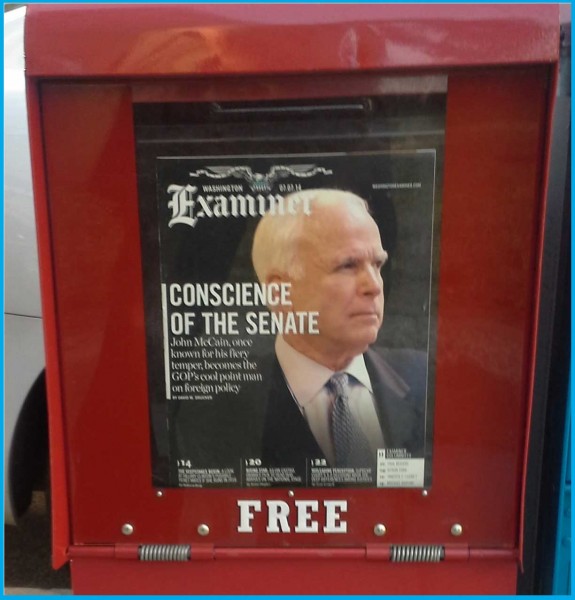 Washington is a funny town.
I took a break from work and went for a walk. It was a hot day, so I stopped and got a nice cranberry lemonade. Very refreshing. I took a sip, turned the corner and saw the above image in a free distribution box. I laughed so hard I sprayed in a full-on spit take.
Some how I would never describe John McCain as the "Conscience of the Senate". Even though he was against torture, he still reversed himself and supported it when Bush was President. Despite stated misgivings, he was still solid for Bush's Iraq war . Hell, for more than a decade, John McCain has never heard of a conflict anywhere in the world that he doesn't want to turn into a full blown shooting war (I thinks he's wanted to send US troops to fight in a dozen conflicts so far this year).
John McCain is not a foreign policy expert, unless "foreign policy expert" is a new term of art for an old coot who is always wrong about any and every world event.
McCain is also firmly pro-corruption. Remember when he stopped investigating the Abramoff scandal in exchange for Grover Norquist's support for his failed 2008 WH run? Oh, and then there was the Keating Five and the long, long list of many other scandals that will always follow him around.
Calling John McCain the "Conscience of the Senate" is risible.
I would have gone with "Angry Old Man of the Senate" or 'Raging Irrational ID of the Senate" or "Endless War Cheerleader of the Senate" or "Bitter Defeated-by-a black-man Crank of the Senate" or "Aging Asshole of the Senate" or something else.
There were lots of choices the little-read conservative rag could have used, but connecting McCain to "conscience" is just funny. Especially if you know anything about the auto-partisan, pro-corruption, war-infatuated very, very senior Senator from Arizona.
How about another open thread.
Cheers