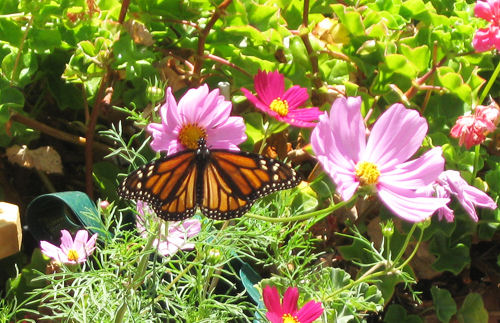 From faithful commentor MaryG:
There have always been a lot of Monarch butterflies around here, passing through to and from Mexico, I guess. For the last ten years there have almost always been five or six of them in the yard at a time almost year-round. This spring they seemed to vanish almost entirely. I saw a single one maybe three times total from January-May. In June, though, we finally saw more butterflies and in bigger groups, even back to five or six. I have been trying to get photos and had hundreds of blurred pictures on the SD card. I had given up for the day and was going back into the house when I saw a solo feeding on some cosmos in the driveway. Every time I pushed the button, he would fold up his wings and disappear. So frustrating! I thought I had missed another chance, but when I came in and looked, there were 74 shots of a closed-up butterfly but two good ones with open wings I hadn't even realized I had captured. Hurray! So nice to have them back. According to the Internet, this one is a female because there are no pheromone sacs on the lower half of the butterfly's wings.

I bought milkweeds seeds but was told they are better planted in the fall here so I got some bare-root plants from Michigan. Most of them died in the shock of moving from snow to Santa-Ana-wind 99 degrees and 6 percent humidity, but one survived. Last week I was encouraged that the leaves were starting to look ragged and hoped it was because caterpillars were eating them. Yesterday there was nothing left of the plant but its stem. Can caterpillars move?

Tons of green tomatoes are waiting to ripen.

The low-chill peach tree is full and they are ripening much earlier than usual.

The blue corn was a disaster, but the Japanese corn has ears with tassels and everything! I have never grown corn before and in the raised bed, it is as high as an elephant's eye!

I can see the Italian white sunflowers next to the corner of the arbor through the window when I am in bed. I am so lucky.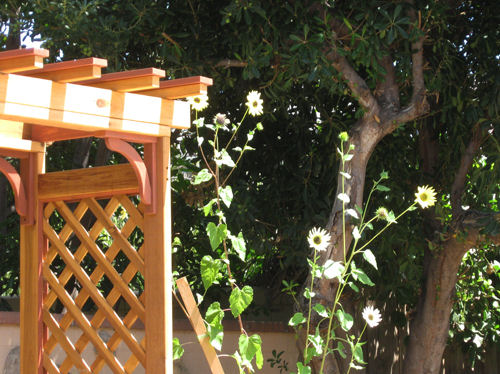 ***********
Another question for you knowledgeable gardeners: I've always taken the lazy-gardener stance that in my yard fungal diseases are something all tomatoes will succumb to, sooner or later (and thank goddess for Serenade, also those of you botanists who recommended it). But I'm noticing this year that the first yellowed, black-spotted leaves are showing up on tomato plants down-drift of the yellowed, black-spotted cherry tree leaves from the yard behind them. I'd never considered the possibility of "cross contamination" between a tree and an annual vine — is this possible, or is it just one of those weather-driven coincidences?
How are things in your gardens this week?