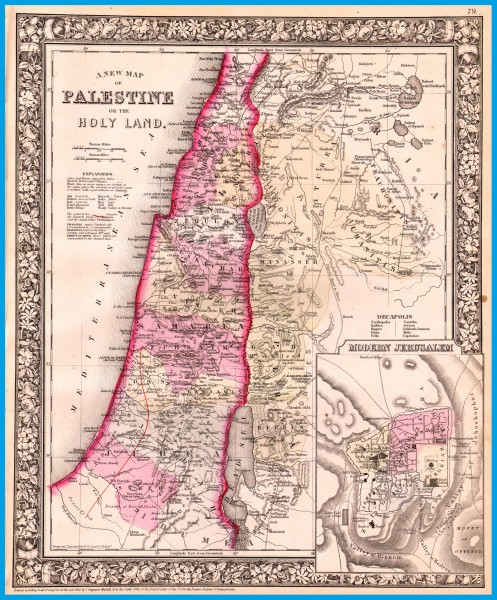 With all the crazy from American wingnuts this summer, it is possible that folks missed the announcement from Israeli Prime Minister Benjamin Netanyahu last Friday that the Two-State solution is officially dead (emphasis added):
While other states were collapsing, said Netanyahu, Israel was not — because of the strength of its leadership, its army and its people. [snip]

Amid the current conflict, he elaborated, "I think the Israeli people understand now what I always say: that there cannot be a situation, under any agreement, in which we relinquish security control of the territory west of the River Jordan" — a reference to the Jordan Valley and the West Bank — as Kerry had urged during a US-led peace effort that collapsed in April.
Of course, this isn't news to anybody who has been paying any attention to the I/P conflict over the years. The Israeli right was never going to accept a Two-State solution and has never negotiated in good faith. This has been clear since one of their own assassinated Rabin and the Right through Sharon and later Netanyahu seized control of the political process.
Until he up and died, it was always easy to blame failure on Arafat (who sometimes helped the Israeli Right scuttle peace talks). But Arafat has been dead for a decade. Now Hamas is presented as the auto-reason why Israel can never enter into serious negotiations to settle the conflict. Hamas and the Israeli Right are very good at tag-teaming to death any movement towards peace.
Mahmoud Abbas, Arafat's successor, has tried to find an Israeli negotiating partner for over a decade, but he would have better luck trying to ride a unicorn.
The Two-State Solution is dead. There will be a One-State Solution, the only question now is what will that single state look like.
Noam Sheizaf at +972 (an independent web magazine focusing on I/P life and politics) has been investigating just what kind of One-State solution the Israeli Right has planned. It is a depressing read as Sheizaf details the kind of One-State Solution that is being created through the slow, steady and relentless boil of the status quo:
The right-wing figures and settlers I spoke to have some different nuances among them, but generally, their one-state solution would look like this: gradually and unilaterally, Israel would annex the West Bank (different time frames were given for this process – from five to 25 years); beginning with Area C and then moving to B and A. Barring security clearances (and according to some – loyalty oaths), all Palestinians will end up having blue Israeli identity cards with full rights. The army will return to dealing mostly with national defense, and the police will take over civilian policing duties in the annexed territory.

Constitutional measures that will define Israel as a Jewish State would take place in advance (some mentioned passing a basic law defining Israel as a Jewish State, something Netanyahu is already promoting). Palestinian refugees will not be allowed back. Gaza will not be annexed, and will turn to a fully independent region, separated from the State of Israel. [snip]

Separating Gaza from their model is necessary for right-wing one staters in order to maintain a Jewish majority in the unified state.
This vision of a One-State Solution is being created by the status quo, the never-ending confiscation of land and the ongoing establishment of new "facts on the ground". Sheizaf points out that the driver in Israeli politics (left, right and center) is avoiding resolution of the I/P conflict while protecting the status quo from change:
The problem is political. The status quo in the West Bank is the common denominator of the Israeli political system. This is what the public wants, and the politicians realize that. I advise readers not to allow themselves to be too impressed by the occasional poll stating most of the Jewish public still supports the two-state solution. This is the result of a choice between one state and two states. In the rare cases when respondents to a poll are faced with a third option – maintaining things as they are while avoiding international measures against Israel – the majority migrates to the status quo option. The consensus over the status quo is what allows Lapid, Bennet and Livni to maintain their coalition, and it is the reason Netanyahu – a man who has taken the idea of keeping things as they are and turned it into an art form – has been able to maintain power for so long.
This is why the efforts to restart Peace Talks have and will fail. It is why Abbas and Kerry do not have an Israeli negotiating partner. Any Peace Talks, let alone any final settlement, would threaten the status quo and any Israeli politician who endorsed such a change would be tossed out on his or her ear.
So, the Two-State solution is dead. A One-State solution—where Palestinians are de facto second-class citizens and Gaza is a maintained as containment prison for the unfortunate population trapped within its borders–will be created through the steady drip, drip drip of the status quo and occupation.
Unless: something happens to make the price of the status quo too high. In that case, Sheizaf points out:
But once there is enough pressure for change on Israel, I assume that most of the Jewish public will move quickly to adopt the two-state solution, because it would rather keep 100 percent of the assets on 78 percent of the land, as opposed to keeping 50 percent of power and assets on 100 percent of the land.
Somehow, I doubt that there will ever be pressure strong enough to make the price of the status quo too high for the Israeli Right (and our wingnuts at home). I do not see Israeli politics ever changing enough to abandon the status quo and re-animate the corpse of the Two-State Solution. The system is locked down and inflexible. The cycle is on an endless loop of death, hopelessness, occupation, and violence. The human rights violations by all sides will go on and on and on…
The sad rinse, wash, repeat of the status quo keeps grinding forward–without even the desire for change.
Our policy of unquestioning support for Israel is not really doing that State any favors. When a buddy is in a self-destructive cycle, a real friend does not look the other way or enable their behavior. A real pal tells the truth even when it will hurt. Israeli is in crisis and the only real way to help is to abandon the policy of unquestioning support. We need to tell them when their shit is fucked up. We need to put pressure on their very destructive status quo. That's what a real friend would do.
Of course doing that would mean violating an American political status quo, so I'm guessing that will happen shortly after we all get our flying ponies.
Cheers
Image: A map of Palestine, circa 1865