As Kay noted below, Professor Goddess Senator Elizabeth Warren's address at Netroots Painfully Sincere-stock went over boffo, like gangbusters, sky rockets in flight, afternoon delight. This of course was to be expected because, for progressives, her words are like meth in a candy dish at a Very Palin Christmas.
Of particular note was what some might call crazy talk that she made about trade deals:
"These trade deals," she said, "are done in secret so big corporations can do their dirty work behind closed doors, so they can have their insider access while worker's rights and environmental regulations are gutted. You know, I've actually had people who support these trade deals come up to me and say that they have to be done in secret because, if they weren't, the people would be opposed. To me, if people would be opposed, then we shouldn't do the trade deals."
Multinational blasphemy!
Needless to say, she hit all the right notes at #NN14 and the "Run, Elizabeth, run," murmur has been upgraded to a dull roar in the distance, helped in no small part by a few on the right for reasons that should be readily apparent. I love Elizabeth Warren with a love that surpasseth all understanding, but my vote belongs to Hillary because, while I may be a fool for love, I'm an even bigger fool for winning.  I am well that The Inevitable Hillary Clinton flamed out in 2008; the victim of the one-two punch of running into dazzling urbanite Barack Obama, and not running away screaming from that living embodiment of wrong known as Mark Penn.
There doesn't appear to be another Obama lined up this year and, if Hillary learned anything after 2008, she'll invite Penn to a 'strategy meeting' in Fort Marcy Park … and then come home alone, if you know what I mean.
As for Warren, I have better plans for her in my Fantasy Administration League.
While the Presidency certainly has it's perks (drones, lawbreaking, golf!), the real seat of power with the ability to change the course of This Great American Experiment is one of nine on the Supreme Court.  With more than a few Justices refraining from buying green bananas (Ginsburg 81, Scalia 78, Kennedy 77, and Breyer 75),  two to four seats  could open up during Clinton II: Rise of The Hillarybeast.
Think of Warren as the anti-venom for John Roberts' snake-oil legal shimmying in the service of the corporations upon whom he has bestowed person-hood.
This isn't to say that Warren would breeze her way onto the Tap-Tap No Erasies Highest Court of the Land via a simple Senate vote when you've got GOP senators who would vote against a cancer cure for their own mothers if they thought Democrats might gain some slight  advantage. But the very public meltdown over such a nice calm well-spoken even-keeled lady who has the ability to take complex arguments and slough off the crap, would make for great political theater with the GOP getting all the bad reviews.
So there you have it, kibitz and argue amongst yourselves in the comments — Jeebus knows that would be a change of pace around here.
And speaking of shimmying, since you guys made SUCH A BIG DEAL about it the other day: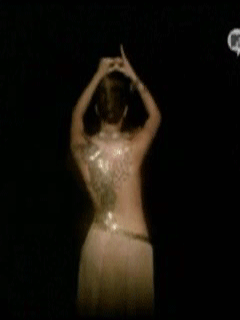 Happy now?