Elizabeth Warren's speech was packed. She did a great job. Short speech. She just hammered the same point home over and over again: the game is rigged and that's not right. That's a direct quote.
There was a group handing out Warren For President hats and signs: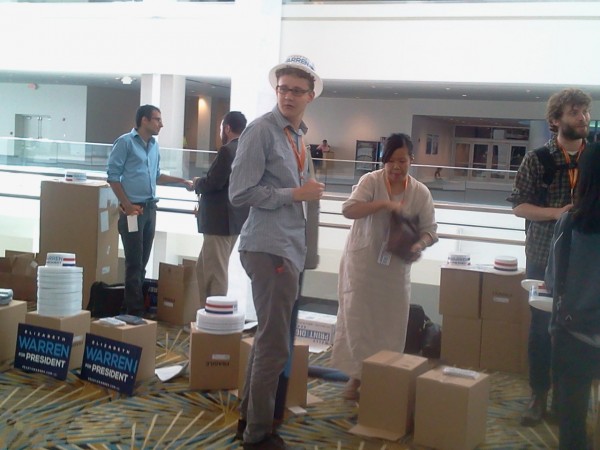 After the Warren speech, Detroit activists (joined by lots and lots of NN '14 attendees) had a rally on water. This is some background info on that:
The Detroit Department of Water and Sewerage announced in March it would target Detroit households with overdue balances of more than $150, or more than two months behind on bills. Since spring it has shut off water to more than 15,000 homes. The water department has released a list of more than 200 businesses that could have water shut off for late payments.
Meanwhile Friday, Democratic gubernatorial candidate Mark Schauer called for a moratorium on Detroit's water shutoffs until city officials can assess who has the financial means to pay off delinquent accounts — and who doesn't.
"I think it's been a backward approach," Schauer said in an interview at the Netroots Nation conference being held at Cobo Center. "I mean … cutting people off and then offering financial assistance is the wrong approach."
Schauer added that financial assistance "needs to be provided to people that just are in a true hardship position."
Meanwhile, the National Nurses United is protesting downtown Friday near Cobo Hall, drawing more than 1,000 demonstrators as they marched to Hart Plaza.They chanted: "No water, no peace" and "water is a human right, fight, fight, fight."National Nurses United says the shut-offs pose a public health emergency and that its event will seek an immediate moratorium on them. The group's co-president, Jean Ross, has called the shut-offs an "attack on the basic human right of access to safe, clean water."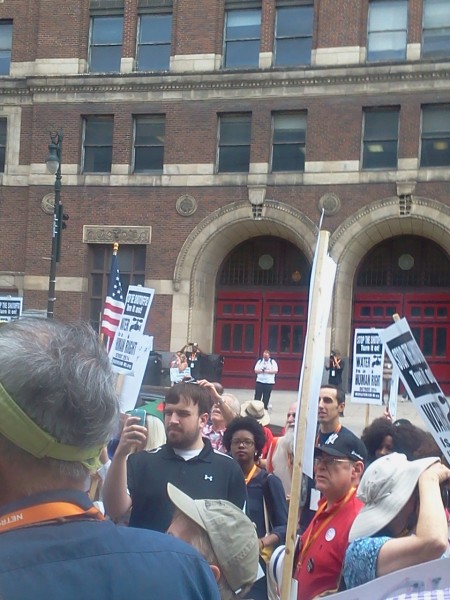 I saw in the comments last night that some of you are wondering about the immigration activists and Biden. I can't really do that justice on the fly here but I will tell you that a large portion of the speeches presented prior to Reverend Barber's appearance last night were centered on immigration reform. I don't think the fact that immigration reform activists are unhappy is any surprise to the Obama Administration or any of the Democrats in Congress. Chuck Schumer appeared last night and spoke prior to Reverend Barber and Schumer's comments were on immigration reform. I assume that's why he came. They know they have to respond to this. The truth is Democrats ran on immigration reform in 2008 and again in 2012 and Latinos are a vitally important group of voters for them. Am I surprised activists are making demands? Not at all.