Went to a great voting rights panel at Netroots Nation. Nina Turner is running for Ohio Secretary of State and Maggie Toulouse Oliver is running for New Mexico Secretary of State. Jocelyn Benson ran for Michigan Secretary of State in 2010.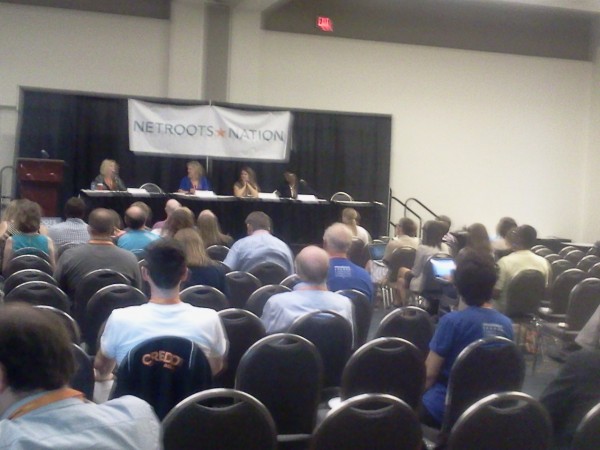 Candidates running for Secretary of State will discuss voting rights issues that come up in the states and what participants can do to help fight back against Voter ID laws in their own states.
Nina Turner is very passionate about voting rights, knows her stuff and was also (incidentally) the favorite of county Democrats here when they met her along with some other state candidates recently. Maggie Toulouse Oliver focused more on the administrative role of a secretary of state, although Oliver is no slouch on the passion part either. Sometimes those two issues are separated – competent administration of elections and the history and meaning of voting – (example of that here) but I disagree with that approach. We can vigorously defend the right to vote and also focus on "good government" administration of elections. Smart, competent voter-centered process protects the right to vote, as a practical matter. Those aren't two distinct issues. In Pennsylvania in 2012, Republicans attacked the right to vote AND monumentally screwed up the administration of their new voter ID process. They were suppressing the vote and also very bad at running elections.
This was a fun event for me because voting rights make my heart go pitter-patter and I immediately go into oppositional/adversarial posture when listening to people who compare the right to vote to buying booze or using an ATM. This was an extremely well informed crowd – throwing around "HAVA" and "Crawford" with ease– in other words, my people. I could relax and enjoy the discussion because it wasn't full of people screeching about mysterious white vans pulling up to polling places and disgorging hordes of fraudulent voters or the ever-popular "there are people who died still on voter rolls so that must mean dead people voted."
The two candidates for Secretary of State talked a bit about the office of Secretary of State and how it has changed. In the past, it was a rather low-key job because it wasn't partisan and it wasn't considered a stepping stone to national fame and the speaker circuit. The objective was to expand lawful access to the ballot, administer elections properly and serve voters. That has changed. An example of this higher profile is Kris Kobach in Kansas, who used the job to pursue his rather extreme legal theories on immigration and become a national advisor to Mitt Romney. It is my belief that Jon Husted in Ohio is also using the job as a stop on his way to the governor's mansion. I don't think these folks are interested in the hard work of administering elections in a fair and competent manner. I think they have much bigger ambitions.
I think the politicization of the job began in earnest with the Bush Administration and their "purge" of those US Attorneys who would not pursue allegations of voter impersonation fraud (because voter impersonation fraud doesn't exist). I think voting process has really suffered as a result, and voters have been all but forgotten in the rush to put in more and more voting restrictions and lump more and more people into the "probably planning a felony" category when they show up at a polling place.