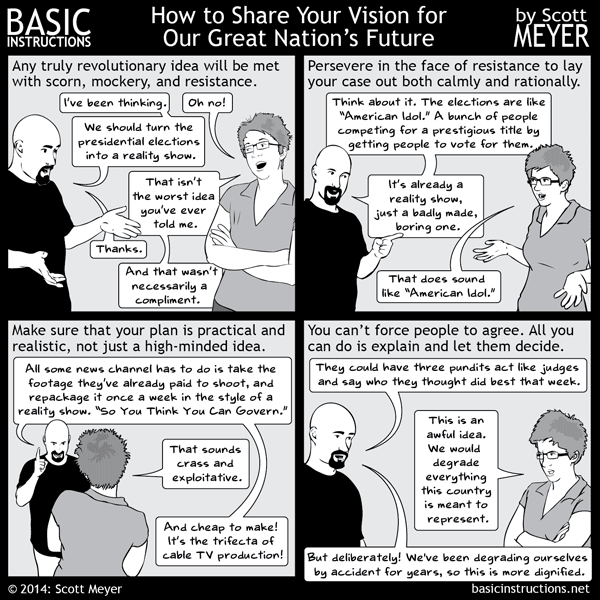 (Scott Meyer's website)
Netroots Nation 2015 will be in Phoenix:
… [L]et us tell you why we are going to Phoenix. We are going there because that's where our voices and presence are needed right now. We're going there because that's where organizing power is needed right now. We're going there because that's where we can have the greatest impact and affect the greatest change. We as a community need to go there because we need to join those on the ground who are fighting this fight everyday…
However, founder Markos "Kos" Moulitas will neither assist nor attend:
… I made very clear in the wake of Arizona's passage of SB 1070 that I would not be setting foot in the state, nor spending a dime in it until the law was revoked. The law, however gutted by the courts, remains on the books, as does systemic harassment of Latinos, so my pledge still stands…

I doubt the conference would decide to host the event in, say, Apartheid South Africa, in order to "take the fight to the enemy". If you think that analogy is absurd, it is, but only in terms of degree, not intent in the county that has consistently elected Sheriff Joe Arpaio since 1992. But if you want a less bombastic analogy, look to labor: Netroots Nation refuses to hold events in cities without union hotel and conference facilities. They're not "taking the fight" to non-unionized locations because we, as a movement, stand for the right of people to organize and we don't reward those places that deny those rights. It's the right call. Also, would the conference have been happy to stay in Arizona had Gov. Jan Brewer signed the virulently anti-gay SB 1062 earlier this year? Hard to see that happening.

Latinos deserve that same kind of respect…
Dave Weigel, at Slate, adds some context:
… In the short history of blogging and online activism, this is a BFD. Moulitsas' blog was the Petri dish for countless writers and campaigners; Moulitsas himself was an accidental icon of the 2004-2008 period when the press woke up to the "netroots"…

By focusing on one blog post, the blogfather's critics have ignored his actual influence. You know Vox, the much-discussed explanatory news site? That's part of Vox Media, which grew out of SportsBlogs (now SBNation), co-founded by … Markos Moulitsas. This is a major figure in the online left, and he's boycotting Arizona (with the hope of reunion for 2016's anniversary conference)…
To be fair, it's not unreasonable to argue that there are plenty of dedicated activists in Arizona, and that we shouldn't abandon those on the front line just to establish a spurious image of purity. And I've seen a few comments, at Slate and elsewhere, that this may (also) be a Jedi mind trick by Moulitsas — "Look! The DFHs, as represented by premier Moonbat-Blogger Kos, will no longer be the face of Netroots Nation! Next year they'll be… respectable!"
***********
Apart from that, what's on the agenda for the start of another week?