I just finished the novel Noli Me Tangere (Touch Me Not) written by Jose Rizal, a Philippine national hero. The title comes from the Latin version of words spoken, according to John: 20:17 (King James Version), by Jesus to Mary Magdalene when she recognized him after his resurrection. He said "Touch me not; for I am not yet ascended to my Father." It is also a reference to cancer of the eyelids used by ophthalmologists, as Jose Rizal was also a physician.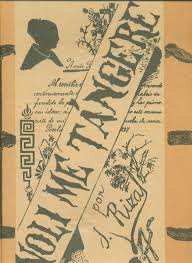 The original text was written in Spanish. I believe my parents read it that way during their respective secondary school educations. I was happy to find the English translation on Amazon. It took me a long time to finish given my responsibilities as a working mom. Also, like all classical books, it was a technical read and I suspect a lot of it was lost in translation and on me being out of context. There were many references throughout the book, much like reading the Dante's Inferno where it is almost impossible to get through a page without having to flip back and read the references (1). I wish someone would teach me more of this book. Unfortunately, I am all out of Asian history professors to stalk.
In April of last year, I started reading a lot about Philippine history. I would call it a binge except it's been slow. It's more like permanent residence at a nice restaurant where the each course is very small. At the end, you're not that full and the bill is an arm and leg, not to mention it was a BYOB.
I started my education on Wikipedia about the People Power Revolution I had lived through as a child prior to our departure. Then I moved on to a book written by a reporter that had a series of interviews with the Marcos' and the Aquinos (2). This reporter eventually accompanied Aquino on his journey home prior to his assassination. Then I read a general history book that middle school kids might read if they needed to write a book report (3) (yes I went there, sometimes you just want it to be easy, especially after the previous book. If I could have read it in a pop up picture version, I would have). It went through the tribal history of the archipelago prior to the Spanish landing, the brief American rule of the nation and the nation ruling itself. There is a Muslim region towards the south so I understood why CNN has reports of an Al Queda presence in the region. For the record, I skipped the chapter on Marcos and Aquino. I also read a really good book by a professor (4) at Mercer University that spent his formative years in the Philippines. The book was about the Japanese occupation in the region. This occurred after the Americans lost control during World War II. I read this because I wondered why certain regions were destroyed during the War. The book was about American families trapped in the Philippines during the Japanese occupation and what they had to do to survive waiting for the U.S. military to return (5). I liked that the book discussed why those families were there (6).   I had no idea the Philippines was a U.S. colony.  I mean, I had inklings since the U.S. influence was so strong when we lived there but I did not know the reason. Oddly enough, my peers (30-somethings and 50-somethings) were also unaware of this history. Interesting that this is not covered in our US history or world history curriculums (I was a teen then so very possible I just missed it). I can't speak for other states but it wasn't a question I recall in the New York State Global Studies Reagents.
Anyway, I read "the Noli" because I couldn't bear to read another book about the Philippines during World War II although I have lots of other titles on this topic on my queue. The Japanese were particularly brutal to the Filipinos. It bothered me to know my countrymen were treated like dogs. For example, the Japanese were slightly more humane to the Ally soldiers while beheading Filipinos as an example to the locals in case they felt like rebelling (…again).
I asked my mother if she recalled these times.  She was born two years before the Japanese took over in 1942. They did not leave until 1945. She said she didn't remember much although she did recall alarm bells sounding and she and the family would have to move closer to the main square of her town and hide out. These incidents were called "penetrations" where the Japanese were in reconnaissance of Philippine islands, the more remote areas, not in their control. Given the dense and unforgiving terrain and the locals that were willing to help (at the risk of their own lives) some American civilian families survived. My mother told me that the inhabitants of her town had an intense hatred for the Japanese. After reading Edge of Terror, I understood why. It's similar to my mother in law's dislike of Germany. She said as a child she once watched a German soldier point a pistol at her little brother's head, also during WWII.  She does a little cheer when German athletes or teams lose in sporting events. When Germany wins, she maybe utters a string of Italian curses.
I went back about 50 years in the history of the Philippines around the execution of Jose Rizal in the late 1800's. I had a sense that other than the U.S. dominating the country, I needed to understand how Spanish colonial rule lasting for three hundred years has shaped the people, culture and economy. The Noli supposedly sparked the Philippine revolution against Spain. I wanted to know what it was that caused the "spark". I suspect that it wasn't just the Noli but the man behind it that incited the revolt.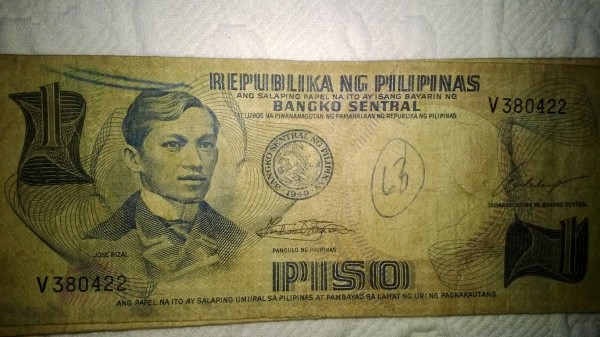 (This bill came from my neighbor's brother. She found his things after his passing. He was stationed in a military base on the Philippines.)
Much of the Noli is a 17th century love story. For the record, I do not like "chick flicks". I actually have a strong aversion to it. It really wasn't towards the end of the book in the dialogue between the main characters does it occur to me why Filipinos might have revolted. I would too (7). Here's a taste, "For three centuries we have held our hand to them, asked them for love, eager to call them brothers, and how do they answer us? With insults and mocking, denying us even the status of human beings".
Having been undocumented, I have spent much effort assimilating into American culture to the point of denying my connection to the Philippines. Once legalized it has been a slow process but the connections with my family still living there has been re-defined. My knowledge of the country's history is also coming into focus. Unlike most of the DREAM act "kids" as President Obama calls them, I'm at a different point in my life. For one thing, I am about 10 years older. I envy the bravery of the DREAMers, these putting their statuses out there while undocumented, still trying to navigate their lives in these uncertain times with their uncertain statuses. For me right now, it's about putting the pieces together about the past living in my DNA so I can understand the path forward.
I had a conversation with one of the attorney's at my job. Part of our duties in the business of clinical trials is ensuring that each site, worldwide, is covered by a contract to protect both parties and also to maintain confidentiality. One of the things he mentioned as a source of difficulty with some of the Eastern European countries that haven't been countries for very long after having been ruled by Russia, was the rampant forgery. He said those areas really preferred handwritten signatures, which is obsolete compared to the U.S. with our validated (8) electronic signature systems.
This made me think of the Philippines and some of the ridiculous requirements for handwritten signatures. It made me realize how young it was as a nation, not quite a hundred years old since being colonized a few times. Of course a 40 year old economy in the 1980's, when we left, was unstable and uncertain! Most of the country has been scrambling for scraps from the imperialist table!  We came here because a life as second class citizens, being undocumented, was better than what our lives would have been had we stayed! It seemed like a natural course of events that many Filipinos emigrated to the U.S. since the two countries had such close ties. At one point, the colony was even ruled under the U.S. Bill of Rights.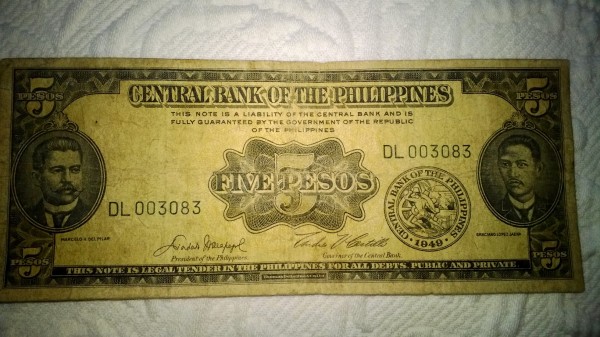 (Look familiar?)
I can't speak about the economic or political reasons other immigrants had for leaving their countries of origin. I do know my family and I didn't come to America to be a burden. To quote Jose Antonio Vargas (9), "we are not who you think we are." We pick your produce, bus your tables and in my case, make sure the medications you put into your bodies (or the bodies of your pets) to manage chronic or acute medical conditions are safe and effective. Also, as much as it is not discussed in our school curriculums or the media, the reasons people emigrate their countries is not entirely unrelated to the decisions made by governments. It's not the fault of immigrants that their lives become the aftermath of colonial vision or policy. It's also not the fault of Americans already living here for being critical.  They might only be seeing the immediate outcomes of such policies, not taking into account decisions made decades ago by the Administration that may have caused such a migration.
Anyhow, you guys asked so here he is, my immigrant cat, unafraid, unenthused and uninterested (10).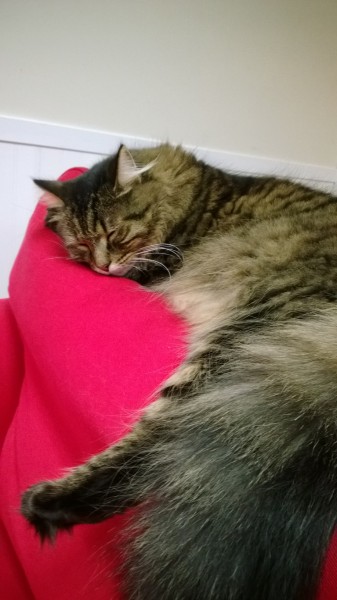 _________________________________________
(1)This is a pain in the ass isn't it? Welcome to my Noli experience.
(2)Title: Impossible Dream: The Marcoses, The Aquinos and the Unfinished Revolution by Sandra Burton
(3)History of the Philippines by Kathleen Nadau
(4)Yep, I found him. Exchanged some emails. He is a really cool dude, inspiring actually.
(5)Turns out the terrain in the island of Panay will just kick your ass if in appropriately equipped.
(6) Shameless yet subtle plug for the other other blog….http://redrising123.blogspot.com/2014/01/book-review-edge-of-terror-scott-walker.html. I won't mention this often, so if you miss this, it's on you.
(7)Well, maybe not. Given my track record I might write an anonymous book report on it.
(8) Rigorous testing to ensure electronic signatures are as viable as a handwritten signature. Here is the Code of Federal Regulations – 21 CFR Part 11 – The regulations in this part set forth the criteria under which the agency considers electronic records, electronic signatures, and handwritten signatures executed to electronic records to be trustworthy, reliable, and generally equivalent to paper records and handwritten signatures executed on paper.
(9) Who does not return my emails hopefully because he is busy.
(10) "Undocumented, Unafraid, Unapologetic" was a slogan first used by undocumented DREAMers in 2011 across America to proclaim their status.