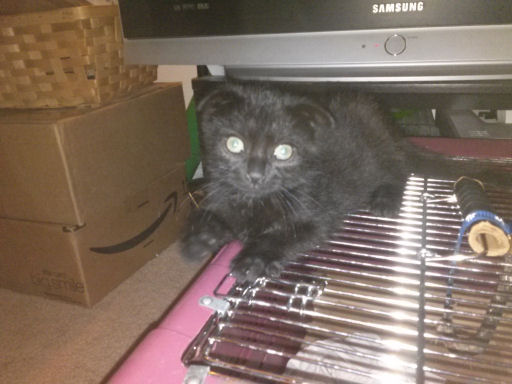 Remember little Ninnie, in Philadephia? Here's an update from the lucky commentor who offered him a forever home, Shazza:
Hi Everyone,
Just wanted to give you an update on that adorable black kitten that Anne posted last month. Well we met the lady who took care of the kitty at our vet where Smokey got checked out. He was too young (though the vet wasn't sure his age) so we took him home, keeping him away from our other 3. We went back last Friday where he got his first vaccinations and tested negative for FLV-yay! We're now trying to get the kitties used to him (cuz he has NO problem running up to them to play only to get hissed at). He is adorable, fearless and such a bundle of energy. In other words, typical kitten.

His eyes are turning green now but his ears are still folded. He's such a sweetie too. We met Carla at the vet that day and she was sad to see him go. But I had her friend me on Facebook where I've posted pics of him. I figure it'll be around Christmas when we get him fixed. Hopefully by then, my other kitties will have accepted him as a little brother. :)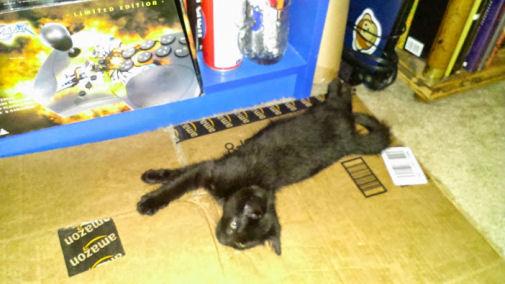 ***********
Just after I got Shazza's email, I heard from another commentor with an update on her rescue cat. It's been some time since I ran any Early Morning Pet Posts, and I think we can all use some happy news right now. So… email me your best pet pics / brags (click on my name in the right-hand column, or use annelaurie (at) verizon (dot) net) and I'll queue them up.
Starting on Monday, with Anna Maria's charming Pita…