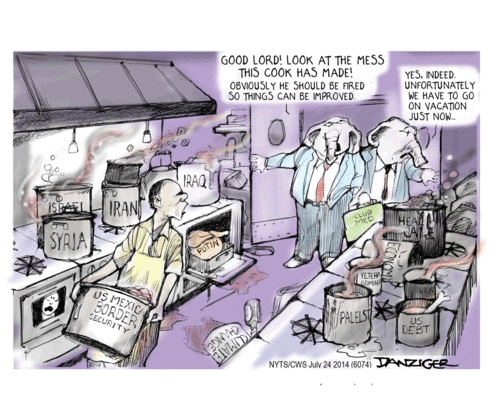 .
"Democratic political strategist" Doug Sosnik has a piece in Politico explaining "How the left took over the Democratic Party". I dearly, dearly hope Professor Krugman's review is correct:
… For a long time, it wasn't just Republicans who believed that history was on their side; a lot of Democrats seemed to feel the same…

But things have changed, for the reasons Sosnik describes and more. Democrats have, after all, won the popular presidential vote in five of the past six elections. Despite all the craziness & challenges, they have made big progress on their generations-long quest for universal health insurance. They have a network of think tanks that is a lot less lavishly funded than the right-wing tanks that is a lot less lavishly funded than the right-wing apparatus, but intellectually runs rings around its opponents.

And as Sosnik says more or less clearly, the craziness of the right in some ways empowers the moderate left…

How it all turns out is anyone's guess — maybe we eventually see a California scenario on a national basis, with the growing diversity of the electorate and the evident madness of the right delivering an overwhelming Democratic majority; maybe we see some exogenous event tip the balance back to the GOP despite what looks like a trend the other way. But what I don't think we'll see, even if there's a Clinton in the White House, is another Clinton era in which liberalism is afraid to take a stand.
***********
And as we all work towards that glorious day, what's on the agenda for the day?