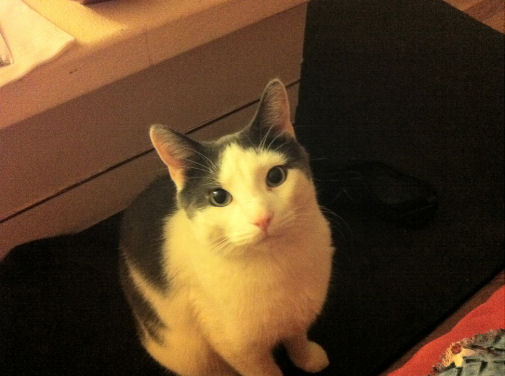 From commentor Anna Maria:
Hi, remember Pita? I thought folks might appreciate an update.

So, much to my mean little Ali's fury, I ended up keeping him. I just got so attached to him so quickly. He really is a character and a perfectly named little pest. He wants constant attention, is always in the middle, and eats EVERYTHING. No food item, bag, box, plastic wrap or piece of furniture in his path escapes his bite. It's as if he has to set his fangs into every object just to be 100% certain it's not edible. I'm doing some construction work in my bathroom and his favorite pastime at the moment is biting at the bits of plaster and spackle sticking out on the unfinished wall. Once while visiting my parents, my mother awoke me while holding an apple with a perfect set of Pita teeth marks having pierced its flesh. "Since when do cats eat FRUIT?!" she yelled.

Unfortunately his bite/chew/eat obsession has its downside. A few weeks ago I came home to find a battery–A METAL BATTERY–cracked open in half on the floor with battery acid sprinkled around it. Ali would never, Pita never wouldn't. So off to the vet emergency hospital we were in the middle of the night. I brought both cats for fear Ali may have stepped in the acid and licked her paws. Luckily, neither of them showed signs of poisoning or acidic burns. But Pita required a week of preventative meds just in case. My legs are still scarred from his scratching me as I painstainkly force fed him meds through an oral syringe. "The one fucking thing you don't want to eat?! I'm trying to save your life you little shit!" I would bellow at him. Total cost of vet ER, meds and follow up blood work: $1500. He is damn lucky he is so lovable.

Ali, however, still hates him. A mere glimpse of him across the room will produce hissing from her, the quality of which is reminiscent of a snake colony. Pita to his credit doesn't seem to let it bother him. He is always playful and friendly. In fact, I've only heard him hiss twice: the first time he saw/heard the vacuum cleaner, and once when Ali walked away from her food dish too soon. He pounced on her bowl with the speed of a cheetah and started gulping at her remaining food. When I snatched the bowl from him he gave me this little hiss as if to say "curses, foiled again!"

As you can see from the photos, he's quite content and very good at looking cute to force forgiveness for all his naughty behavior.
Gotta love the happy endings.
***********
Apart from comparing what the vets call "depraved appetites" (our red-tabby-oriental rescue cat Rocket is a maniacal cloth-chewer, far worse than any dog we've ever had), what's on the agenda for the day?