My fledgling driver and I arrived at the DMV half an hour early this morning. This was to be the big day, the day she'd take her driving test and exchange her learner's permit for a solo license. We live in the boonies, so we'd left early to make sure we wouldn't miss our DMV appointment if the rush hour traffic hadn't subsided in town.
Not wanting to offend the DMV staff by arriving in the building more than 15 minutes early (the printout had cautioned against this), we waited by the car when we got there, checking out the driving course behind the DMV building. As we looked on, a licensee wannabe arrived at the course, and the driving tester put her through her paces.
Did you know parallel parking is no longer on the test? It isn't, at least in Florida. The person we watched take the test had to pull into a diagonal parking space marked by two cones port and starboard, then back out and continue the test. She pulled in okay, but when backing out, she took out a cone, and just like that, she was done. Failed. Better luck next time.
"Oh my god!" my fledgling driver said. "I just know I'm going to hit a cone! Why did we have to bring this ridiculous boat of a car for the test? Why didn't we borrow someone's Mini?"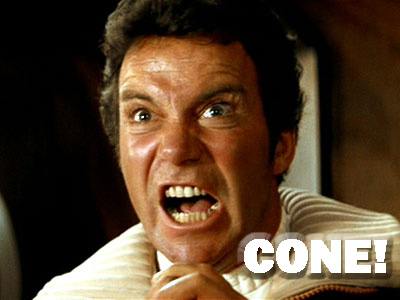 "You won't hit a cone," I said. "You've been pulling in and out of parking spaces in this car and even larger vehicles, surrounded by other people's actual cars, for a year now, and you haven't hit one yet. You'll be fine!"
This went on for the prescribed 15 minutes — her panicking about the cones, me reassuring her that she wasn't going to hit one. Then it was time to go in.
The DMV staff was exactly as welcoming and efficient as expected, and our fellow state ID and license seekers were a pleasant, patient lot; when those without appointments were informed they'd have a minimum two-hour wait, it hardly dented their good cheer. I have no idea why an armed deputy is on duty in the lobby.
We waited on the hard plastic seats for the tester to fetch my driver, who fretted away the time obsessing over cone collisions and reviewing last-minute tips from a DMV brochure. She begged me not to watch her take the test, and I promised not to peek.
Finally, the tester escorted her out. She was back in less than five minutes. Frowning. She didn't even get a chance to run over a cone. Because she blew through a red light before they even reached the cone section!
The way she explained it, the error was more of a failure to play "Simon Says" correctly than a reflection on her driving skills. She and the tester were on the empty course, and whenever they'd reach a stop sign, the tester would say, "Turn right," or "Turn left," watching to make sure my kid looked both ways and used the turn signals properly.
When they arrived at the lone stop light on the course, which was red, the tester said, "Turn left," and my kiddo did — right through the light. Flunkity flunk flunk. We'll try again next week. Is it wrong that I'm secretly relieved?
Open thread.