First, before you all go nuts on me: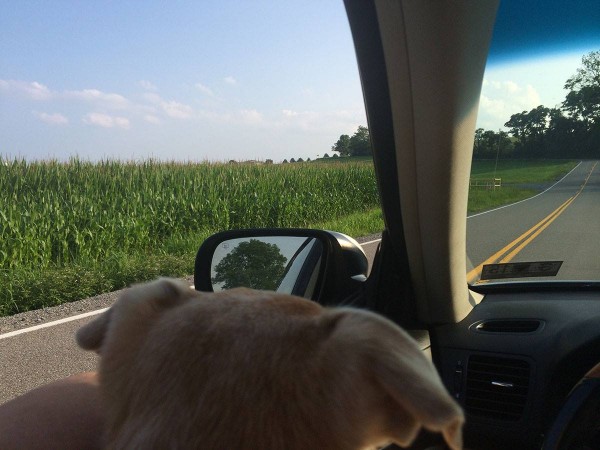 Lily and I took a ride out to Chatman and Harry's farm to pick up some fresh eggs (they are just the best, especially the double yolks), and as always, dog is my co-pilot (for the record, I stopped the car for that picture- it was not a moving selfie- you can do that around here. Just stop the car in the middle of nowhere and have nothing to worry about).
I tried to run myself into the ground today. Last night I was up until about 4:30, and I did everything to fall asleep, including extreme measures- I streamed about 8 episodes of the Forensic Files on my iPad. That guy's voice is so dull and monotonous it actually makes NPR announcers sound like morning shock jocks.
At any rate, I missed my check-up this morning because I slept until 9:30, so I called my Dr.'s office to apologize and reschedule, and the conversation went like this:
Me: Good morning, my name is John Cole and I slept through my 9 am appointment and I would like to reschedule.

Nurse Ratched (in this obnoxious snotty tone- the kind that makes you want to reach through the phone and punch the person in the neck): Well, I wish you would have called because I could have got someone else in.

Me (mentally): Did you just listen to a fucking word I said? I told you I FUCKING SLEPT THROUGH the appointment. Had I been up early enough to call you, I would have BEEN DRIVING TO THE FUCKING APPOINTMENT. ASSHOLE.

Me (actually): I just said I slept through the appointment, which would have made it hard to call you.

Nurse Ratched: I can get you in on the 18th at 1:30.

Me: Fine.

Nurse Ratched: *** CLICK ***
No acknowledgement that I was ok with that date, no goodbye, etc. For the record, this is the colleague of the nurse (who is actually very sweet but I am still pissed off about that level of incompetence) who sent me to the wrong fucking hospital two weeks ago. My parents love this doctor, and I like him as well, but his asshole staff is one fuck-up or one frown away from me saying to hell with them. Now that I think about it, they'd probably be thrilled with that outcome- I'll sure show them!
Enough ranting. When I woke up at 9:30, I literally popped out of bed. The sun was up and blasting through the curtains and I was awake. Like- no rolling over and doing another hour. AWAKE. And I was not remotely tired. It was like that five hours was the best five hours of sleep I had ever had and I was bursting with energy.
I decided to spend the day running myself into the ground so I would fall asleep easier. Detailed the car, messed in the garden, sorted some stuff out in the garage, cleaned the basement and took out some recycling, did laundry, walked the dogs four times, went to the farm, and then made dinner (grilled chicken breast, grilled asparagus, rice pilaf, tomatoes/onions/cuke salad). So far I am wide awake and every muscle in my body is sore from activity the likes of which they have not seen in a while, so we'll see if it pays off with some sleep.
Had my first "urge" to drink today and it really wasn't an urge, per se, but when Lily and I were leaving town to head to the farm, it was around five-ish and a guy on Main Street was getting out of his car after work (he was obviously a construction worker or something) and was carrying a 12 pack, and I thought to myself, "Today would be a nice day for a cold beer after working all day." Before I even finished the thought I had an immediate second thought "Oh yeah, you can't do that. One beer would probably turn into six months and a shitload of vodka and scotch and drunken stupidity and who knows, I might even make some bad decisions." Then Lily made a retching sound and I thought she was going to throw up on my lap (which she has done before and it is always a fun good time suddenly noticing that your crotch is warm and wet and looking down and seeing a gooey mass of dog vomit on your junk, but this time she was just hacking) and forgot about the whole thing until now.
On a personal note, I am now the thinnest (consider my weight on a spectrum of zero to Tunch and understand that thinnest is a descriptive term and not actually attached to a specific weight that I consider to be "thin," just that weight wise I am the thinnest) I have been since I broke my shoulder 4-5 years ago and put on all the lbs. I'm a few weeks away from having to bring clothes out of storage. At any rate, I'm feeling pretty good. Also, just a few more weeks before MNF!
You?