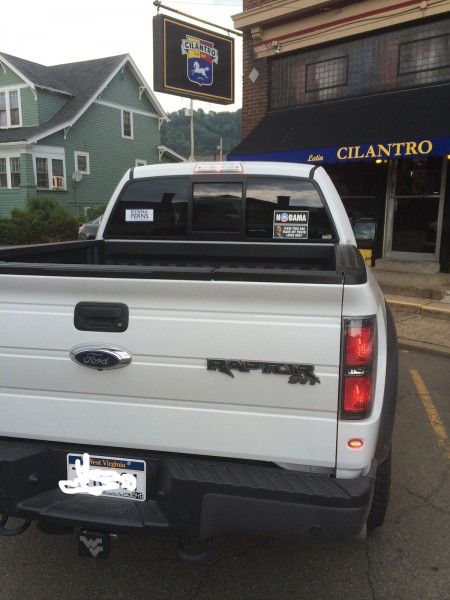 Shawn, Christion, and I went to Wheeling to Lowe's for some paint for the front of the house and a squeegee with a 12′ extension so I can wash all the windows, hit the produce stand, and then went to the fish market (I quit eating beef and pork for the foreseeable future because I don't want my pancreas getting doused with saturated fats), and when we were done with all the errands the guys wanted to go to a local Mexican grill called Cilantro's (it's like a local Chipotle). Went there, and I waited in the car checking email (I had a tuna steak, a little risotto, and a garden salad) and was parked next to the jackass pictured above.
Along with the obligatory NoBama and Does This Ass Make My Truck Look Fat, he also had a sticker on the left side for a local State Delegate, Tim Ferns, so I am sure he is a real winner of a politician.
The best part, though, was that this was a 6.2L V8 Ford Raptor SVT, which gets only 11/16 mpg, which means around here, 10-11 mpg with the hills. But here is the best part. The truck was running the whole time. This teabagging asshole was in drinking a beer and eating dinner while his truck was just sitting there running, wasting gas and polluting the world for, well, shits and giggles.
Even better, leaving your car running while unattended is rather clearly illegal for obvious reason, but this sociopath clearly doesn't care about anyone else's health or welfare and most assuredly doesn't care if some kid hop in the truck and drives it through the storefront. I doubt he even so much as flinches at the misdemeanor and $100 dollar fine. Why would he- he's probably burning that much money in gas driving to and back from the restaurant and idling it for an hour while he takes his time eating and drinking.
"I got mine, fuck you," I guess. I seriously hate these people.