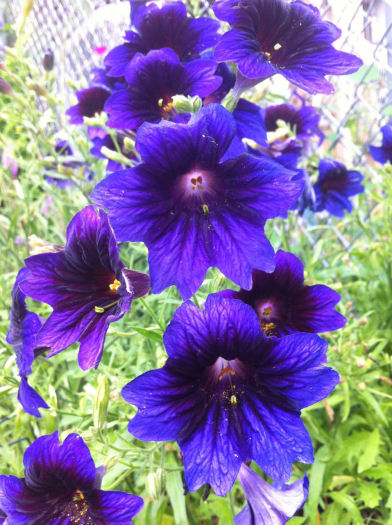 From occasional commentor Misamericanthrope:
I live in Chicago and my garden is a true urban one. The El tracks are right behind it and it is fenced off with razor wire! I have managed to carve out 2 beds from a parking area and have installed planters boxes and self-made concrete planters throughout the back lot of my building. The first photo is of my Salpiglossis 'Kew Blue' (AKA known as "Painted Tongue"). The second is of a long planter box featuring Trailing Coleus, Purple Heart, Draceana, Dichondra Falls and Blue Pimpernel. The vine is a Moonflower Vine (blooms are on the way!). The third is my Coleus set. Did without Coleus last year and missed them. They are certainly thriving…

I am a long-time reader of Balloon Juice (one of the sites that helps keep me sane!), but a rare commenter.
***********
What's going on in your gardens this week?