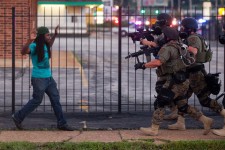 Good grief. It's almost as if they want this whole to town to blow up:
In another day of demonstrations, protesters chanting "Don't shoot!" marched in front of the St. Louis County prosecutor's office on Tuesday, demanding the arrest of a police officer who shot and killed an unarmed black teenager.

The Ferguson Police Department, which had previously said it would release the name of the officer, said Tuesday that it had decided against doing so out of concern for the safety of the officer, who was put on administrative leave. The department said threats had been made against the city's police on social media.

"The value of releasing the name is far outweighed by the risk of harm to the officer and his family," the Ferguson police chief, Thomas Jackson, said.
Look, if someone does hurt the cop, at least we can be assured the local police will do a thorough investigation and not leave his body to roast on the pavement for four hours in the afternoon sun like they did for Michael Brown. Besides, shouldn't you have something to fear when you shoot an unarmed teen eight times, most in the back as he fled unarmed? I have no sympathy for this man whatsoever. Release his damned name. Now.
Despite the bullshit claims (on the few occasions the national media actually covered the story), most of the protests in Ferguson have been peaceful. Lemme rephrase that. Most of the protesters have been peaceful. The police have been up to their usual bullshit, cordoning off the protesters so it was basically shooting fish in a barrel and firing tear gas, rubber bullets and these at protestors:
On a street in Ferguson: big wooden pellets matching protesters' descriptions of what they were shot with last night pic.twitter.com/e7cDWOMey8

— Jon Swaine (@jonswaine) August 12, 2014
Steve Walsh, 26, who says he was shot in the neck with a "wooden pellet" by police in Ferguson tonight pic.twitter.com/weMaHrglxR

— Jon Swaine (@jonswaine) August 12, 2014
From same street: remains of "Triple Chaser" CS gas canister, "60 cal stinger" rubber bullet magazine; rubber bullets pic.twitter.com/ImgZNfwyzN

— Jon Swaine (@jonswaine) August 12, 2014
Not sure about you all, but I think while gagging on tear gas, being shot in the head with a large hunk of wood might be more than "less than lethal." Oh, bonus fact- the cops corralled everyone protesting, and then while shooting at them, screamed at them to disperse and go home. Which, of course, they couldn't do, because they were corralled by the cops and not allowed to break police lines to leave. Speaking of tear gas, here are Ferguson's finest shooting teargas into a guy's lawn because he would not disperse… from his own yard:
NWA had it right. I guess when these neanderthals get their toys, they want to use them, and use them they did. Can the feds just take over the entire Ferguson police department?
Another good question- does this look like a smart composition for the government and police force:
Ferguson's police chief and mayor are white. Of the six City Council members, one is black. The local school board has six white members and one Latino. Of the 53 commissioned officers on the police force, three are black, said Ferguson Police Chief Thomas Jackson.

Blacks in Ferguson are twice as likely to be stopped by police as whites, according to an annual report on racial profiling by the Missouri attorney general. Last year, 93% of arrests following car stops in Ferguson were of blacks. Ninety-two percent of searches and 80% of car stops involved blacks, the report said.
Lots more here at Vox.