The National Republican Congressional Committee, which came under fire earlier this year for a deceptive series of fake Democratic candidate websites that it later changed after public outcry, has launched a new set of deceptive websites, this time designed to look like local news sources.

The NRCC has created about two dozen of these new faux news sites targeting Democrats, both challengers and incumbents, and is promoting them across the country with localized Google search ads.

The NRCC's single-page sites are designed to appear to be a local news portal, with logos like "North County Update" or "Central Valley Update." The articles begin in the impartial voice of a political fact-checking site, hoping to lure in readers. "We'll take a look at her record and let you decide," starts one. Then they gradually morph into more biting language. At the very bottom, in a box, is the disclaimer that the NRCC paid for the site.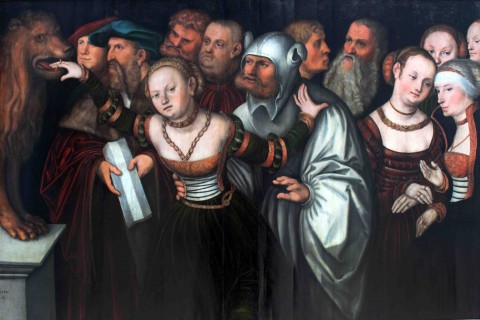 This isn't, apparently, illegal.  But it sure is telling.
The Republican party has a deep, long term problem.  The GOP is wrong on every major policy question.  Economics and recession? Wrong. Environment, climate change, public health? Wrong.  Health care? Wrong. Income inequality? Wrong.  Tax policy? A joke. Foreign policy? Explosively wrong. Infrastructure investment? Wrong.  Border security and immigration? Comically (if there weren't so often tragic consequences) wrong.  Race in America? Viciously wrong.  Industrial safety? Wrong.  Regulation? Ask the phosphate loving folks of Toledo.  Scientific research? Wrong….and so on.  No links for now because I'm in the middle of day-job urgency, but they're all there.*  For now, the take-away is that the major policy options that are the central pillars of the Republican party's approach to governance have a track record, and to a startling degree (not to folks here, I know) those options have failed.  See, for just one example, Sam Brownback's Kansas.
This is a problem come election season.  The voting – age population nation wide is, as widely documented, moving away from the Republican party.  A focus on certain issues produces real problems for the Republican brand – hence the desperate rush to hide from Obamacare repeal now that the program has actual winners who vastly outnumber any loses.   It's simply toxic for a Republican to have to answer what he or she would do if the ACA were actually to give way to the status quo ante.  Americans really don't want to send troops hither and yon…and so on.  Y'all know this stuff Ginger Rogers style:  backwards and in high heels.
So what do you do if you  are a Republican strategist determined to hold on to the House and capture the Senate, knowing that  if Americans were motivated to vote in the proportions that have the full range views on the core Republican policy platform, the Republicans would lose.  To avoid fighting an election on that turf, your weapons are three:
*The gerrymander, to make sure that Republican votes are worth more than Democratic ones in the amount of representation a given vote can "buy."
*Voter suppression, because it's always easier to simply deny the vote to the wrong folks than it is to risk even the engineered participation of gerrymandering.
and finally,
*Lie.  Pretend to be something other than you are.  Claim you are a "compassionate conservative" or even better — pretend to be an objective source of facts that are in fact bullshit.
It's like that old lawyers joke:  when facts and law are both against you, pound the table.
One more thing — here's the most telling detail in the story of the NRCC's costly gambit, btw:
[NRCC communications director Andrea] Bozek's response? "They're just jealous," she said, "that they didn't think of this strategy first."
Ummm. No. This is a strategy for the desperate, for those with nothing left.  It needs countering, to be sure, but not emulating.
One last note:  the basic GOP approach to elections: to deny the franchise; to construct the mechanics of elections to achieve near-certainty of result; and to create a fictional simulacrum of the media to make reality harder and harder to distinguish — all these are the tools of authoritarians, of one-party states, of dictators.  Which is to say, this is the work of an organization committing treason against the ideal of American democracy.
Factio Grandaeva Delenda Est.
*I'm actually thinking about a long essay that expands on these one liners, which may someday see the light of day…but probably not soon, given the real world's claim on my sorry butt.
Image:  Workshop of Lucas Cranach the Elder, The Fable of the Mouth of Truth, 1534.