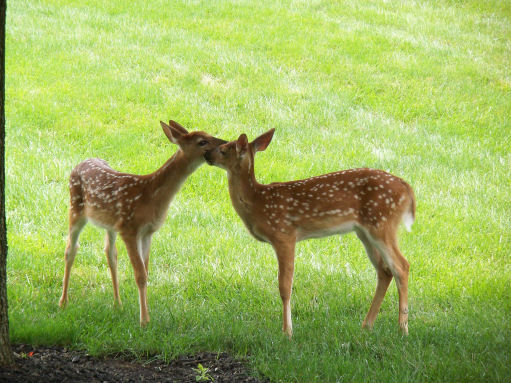 From commentor Bella Q:
If you will take wild pets, I have a couple. Twins from last summer. That photo was taken in our front yard under an oak tree.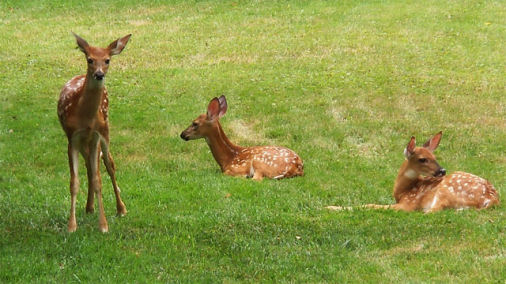 Twins and a singleton from 2012. Those were taken in the back yard next to ours. Twins are the norm for a mature healthy doe when food is plentiful, and actual triplets are not unheard of in times of abundance.

Bucks hang out in bachelor groups in the summer, and I came home week before last to find 4, still in velvet lounging in the same area where the fawn shots were taken. Sadly, I did not have a camera handy to get a photo of the stag party, so I am on the hunt for future opportunities.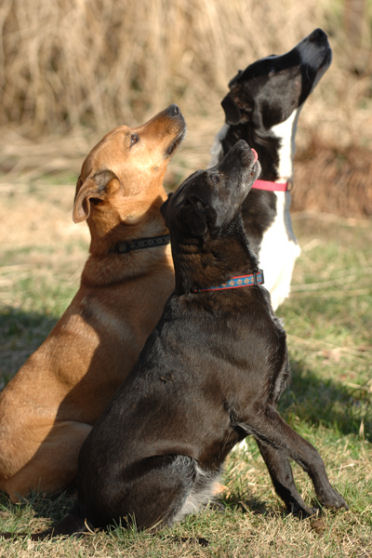 Our three dogs, when there were three, looking at me (I had a treat!). All were rescues, Layla (largest!) is the baby and is now eight. Django was dumped at a truck stop and found me on my way back from a horse show. Lulu (Louise) was found at a friend of mine's farm (with her sister Thelma) under a trailer, two years earlier. She got in my lap at a horse show, and my friend sent her home with me. There are more details, but those should suffice, as I'm guessing you don't want novellas…
***********
Everybody breathe…
What's on the agenda for a day when, as Churchy LaFemme would put it, Friday the 13th falls on a Wednesday?