John might have a mixed record for prognosticating, but nobody can deny his foresight in arguing against equipping small town police forces like Ferguson with military hardware back in the early 2000's. Kids want to play with their new toys. Give people like Ferguson chief Thomas Jackson, apparently a big fan of Sean Hannity, the tools to beat a crowd into submission and pretty soon you will find that crisis management best practices manual holding up the short leg of a table.
"We're dealing with 4,000 animals in there, & you want to give me attitude?" The deputy yelled, mad I was taking a pic #Ferguson #MikeBrown

— Eli Rosenberg (@EliKMBC) August 14, 2014
No reason to talk with 'animals' when you can roll up with armor and smother their town in tear gas.
STL County Police Chief Belmar: "We've done everything we can to demonstrate a remarkable amount of restraint." pic.twitter.com/97AcVPPZGK

— Matt Pearce (@mattdpearce) August 14, 2014
Lord have mercy, imagine what a lack of restraint would look like. If St. Louis cops are that eager to gun down unarmed protesters then you have a pretty watertight argument for issuing these assholes the London standard of a billyclub and a can of mace.
I suppose we can thank providence that St. Louis has not gotten its hands on newer crowd control toys like the deafening Long Range Acoustic Device (LRAD) or the microwave pain ray. It makes my skin crawl to think what undisciplined, racist wingnuts like Chief Thomas Jackson would do with those.
***Update***
I mean really, Jackson is the guy at the center of the storm. How he acts in public will shape how people judge the behavior of his force. Imagine for a second that I wanted to write a tboggesque parody of a bigoted half-assed excuse for a small town Chief handling an inexcusable but isolated incident about as badly as a person can. I'd start with stonewalling, a media blackout and heavy-handed crowd control to make things worse. Then, keeping in mind that this is an improbable fantasy story where you exaggerate for effect, I would have him give his first public interview to Hannity. And yet here we are.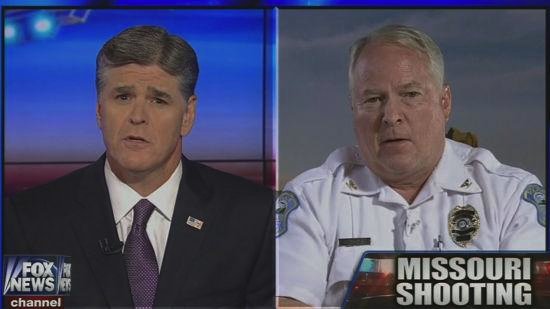 Try to imagine an outlet that would say worse things about this guy's integrity and leadership. Breitbart? The list is pretty short.