So this passed through my RSS feed from Nature Communications.
Multicolour nonlinearly bound chirped dissipative solitons
Like most of you my brain asked me to please not read that twice. Unlike most of you this falls pretty close to what I get paid to do so I felt obligated to at least try to understand it. Then I says to myself Tim F, says I, this sounds like a varsity challenge in science communication. If internetblog readers can grok why this is new and cool then you sir have made it in the world of unsolicited amateur science writing. You can all grade me at the end to let me know how I did.
Before we get to the meat I'll toss out this 100% relevant teaser.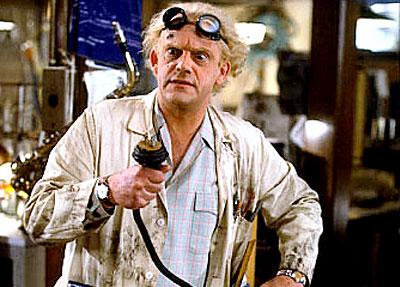 The basic problem has to do with power. Let's say that you need exactly 1.21 gigawatts of power to go back in time and accidentally seduce your mom. Not saying that you personally want to do this right now, but it happens. The trouble is that even the main line out of a power station will not give you that kind of juice. But that's ok! You only need it at the exact moment when your DeLorean hits 88 miles per hour. No problem! Use a capacitor.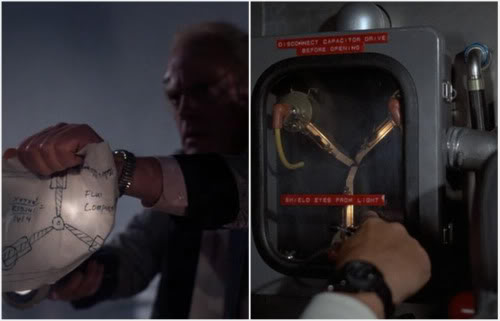 A capacitor lets you load power in at whatever rate you want and then let it all go at once. A crossbow is another kind of capacitor in that it let go all of your cranking energy in a fraction of a second. In theory you could use nuclear power to fill a capacitor but really you could use a diesel generator, wall current or solar panels if you can afford to wait (and a hefty utility bill).
Now capacitors can store electric power and crossbows work great for hand cranking energy, but sometimes instead of electricity or a hole in Sean Bean you want a whole lot of light. Of course that means lasers. However the kind of laser you find crawling around the average garden puts out a steady steady rate of modest power. If you need a lot of power from a simple laser then you need something like this, a huge power supply and an ocean's worth of coolant.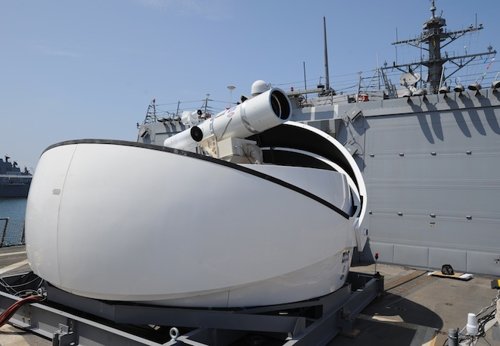 On the other hand, maybe you only need that whole lot of laser power when your DeLorean hits 88 miles an hour. You can't just bottle light up* but you can take advantage of the way lasers bounce light back and forth between two mirrors in an excitable medium (the sapphire in a sapphire laser) until the medium gets 'hot' and shoots a laser beam through an aperture. Whereas most of the time light just bounces around a laser cavity like ping pong balls in a lottery, imagine if you could get all those ping pong balls bouncing off each wall one side at a time. A wall would feel mostly nothing and then suddenly A LOT OF PING PONG BALLS and then nothing again. Pulse lasers work like that.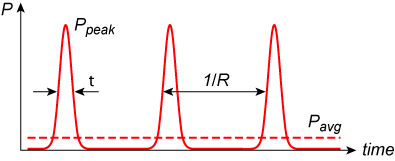 Pulsing is great for communications because they're essentially digital and because a powerful pulse will travel a lot farther than a continuous wave will. Even better, a focused pulse can put so many photons in such a small space that a decent number will run headlong into other photons and get stuck together into one photon with twice the power (how? quantum something. shut up, it works). To see why this is great for microscope folks, stick a red laser or led against your thumb and see how much of the light passes through. Now find a green laser pointer or LED and do the same thing. Even though the green pointer has more energy none of it gets through your thumb. To see things deep in the brain then, you focus a pulsed red laser on a point deep in the tissue where a bunch of photons will run into each other and turn green at the very very specific spot where you focused the laser. When those green photons hit fluorescent stuff you get yellow light back. As you scan the little focus spot around you get a picture of, e.g., one brain cell deep in its natural environment.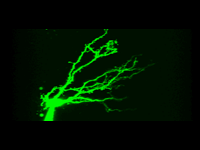 Fascinating. The hell is a soliton?

We all know that lasers are light and light is a wave (yes and a particle; begone pedants). A soliton is a sort of standing wave that happens under certain conditions, like that crest in a river that never goes away. A dissipative soliton is just light bouncing around a laser cavity in a clever way that makes the gain medium (e.g., the sapphire in a sapphire laser) shoot out laser energy in short powerful pulses; think of all the ping pong balls hitting one side of a lottery agitator at the same time.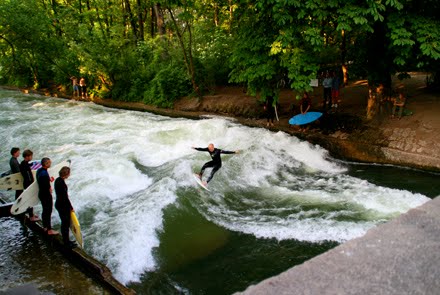 They figured that out years ago. So what is new?
In theory that should be the end of the story. When you get the standing wave ('dissipative soliton') just right the laser head will produce a near perfect train of very short pulses. If you put the laser head on a gimbal to shoot down drones like that Navy bug zapper in the picture above then you are all set. Trouble is you can almost never get away with just pointing the laser head at something. In communications and in microscopes, which is where I use them, you need to guide the laser to the other tin can in Iowa, cells on your microscope or Sean Connery's scranus by bouncing it down a flexible fiber (yes Goldfinger used a fixed head on a gimbal; bear with me). Frustratingly those perfect little light pulses get a little less perfect every time they bounce around a fiber or any other optical element like a mirror, a filter or a lens.
On the plus side we know most of the things that screw those little pulses up, and a big part of it comes from the ability of lasers to put out an almost but not quite perfect wavelength of color. For example a laser that puts out pure primary green at a wavelength of around 545 nm actually puts out a lot of photons very close to 545 nm plus some with a little more energy and a shorter wavelength and others with less. This inevitable spread becomes really important for pulse lasers, because in a lot of cases a pulse is only useful if it all arrives at the other end at the same time. Bouncing around a fiber makes the longer wavelenghts arrive a little slower and the shorter wavelengths arrive a little sooner than the average photon does, spreading out the pulse and making it a bit less useful.
It gets pretty frustrating to lose your perfect little pulses like that but, critically, each setup causes its own distinct kind of futzy smear. If you can predict the smearing then you can fix it. Think about walking a bunch of kindergarten kids a couple of blocks to a playground. Let's say that your boss is waiting at the playground so you you really want the kids walking in a tight bunch when they get there, but some kids invariably walk faster than average and some kids invariably take their time. Of course if you want to follow kindergarten best practices you would make the kids hold hands, slow them all down to match the slowest kid or yell at anyone who gets out of step. However you can't do that with photons so you can't do that with the kids either.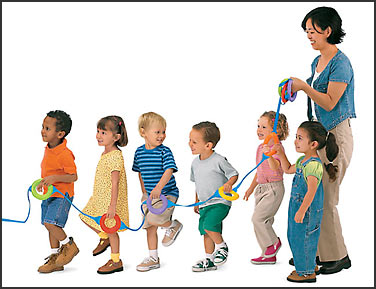 Now how do you solve it? An optical physicist would set the slowest kids off first, then the average kids and then the speed walkers after some delay. At first your grouping will look terrible but, critically, if you know your kindergarteners and a little math you will impress your boss when they reach the playground in a tight little group.
To pull off this trick with photons, you stick a complicated** little optics box in front of the laser head that lets the low-energy kids out a little sooner and holds back the high-energy kids a little so that they all get to the playground brain, tin can or Sean Connery's scranus at the exact same time. For lack of a more obvious term to describe this preemptive quantum anti-smearing, we in the lasers world call it pre-chirping. The Russians, Austrians and Germans who wrote this paper made an impact by tackling an especially tough kind of smearing (stimulated Raman scattering) that creates a new solition or standing wave that interferes with the laser pulses. As you might guess by now they figured out how to pre-apply an anti-standing wave that also works in several colors at the same time, a kind of magic trick that only third-level quantum ninjas can pull off.
So to summarize, they needed to separate a bad standing wave from a good standing wave. To do that they pre-anti-futzed each laser pulse with the exact opposite of the bad wave so that kindergarteners all get to their playground in a nice little pack. And it works in several colors! This will probably help high speed traders shave a couple nanoseconds off of their front-loaded trades, and then later it could lead to faster internet speeds and a cooler microscope for me.
(*) OK these badasses basically can stop light in a bottle. Never tell a scientist she can't do something.
(**) i.e., I don't know how it works.