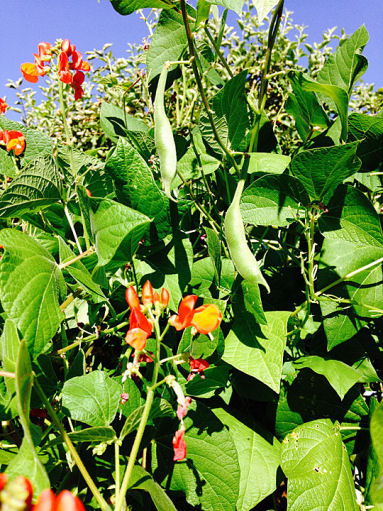 From faithful commentor Marvel:
We're having a swell summer, with odd variations in the weather (we've lived in the beautiful Willamette Valley for six years, so can't comment on what's normal beyond our own slim memory). Last week we saw a four-hour rollicking electrical storm and unexpected rain; this week's been warm and dry. So far we've not seen triple-digit temps, but a few of our leafy greens (esp. lettuce, spinach & the young cole crops) are appreciating the shade cloth we've put up for them.

The garden's not the least bit confused and it's doing a Full Speed Ahead sprint to the finish.

I planted a few artichokes this year — they're bulking up nicely and I expect we'll see some 'chokes next year (gardening is making me develop the patience I never learned in my youth).

This is my first year with Scarlet Runner beans (top photo) — we've eaten some pods while they were still quite small and will let the majority of them fully ripen (and dry the lovely beans later on).

The corn is about ready to pick & eat (& freeze and eat & freeze — there's a LOT of it out there!).

The tomatoes are going crazy. We plant mostly paste-types (for canning & storing) and the Marzanos this year are stupid-abundant. The slicers are taking their sweet time — which works for me, since these are the ones we eat every day of the season.


We planted more quinoa this year and it's looking pretty happy — we've cut back on its water and it's adding more (and more colorful) seeds for harvest (Fall, before the rains come).
***********
It's peak tomato season here north of Boston — made one batch of slow- roasted tomato base last weekend, and may have to do another one this week after I've picked through the garden again tomorrow.
There's a dozen golf-ball-sized fruit ripening on the mini-bell pepper plant that was one of this season's experiments, but while the sour gherkin cucumber plant is robust, I haven't seen any flowers or fruit yet. It's probably not getting quite enough sun to be happy in its current location.
What's going on in your gardens this weekend?