Republicans and global warming:
In stark contrast to their party's public stance on Capitol Hill, many Republicans privately acknowledge the scientific consensus that human activity is at least partially responsible for climate change and recognize the need to address the problem.

However, they see little political benefit to speaking out on the issue…
Anthony Adragna, writing in Bloomberg BNA, points out that it's not simply the lack of an upside that constains his sources.  Rather,
Most say the reluctance to publicly support efforts to address climate change has grown discernibly since the 2010 congressional elections, when Tea Party-backed candidates helped the Republican Party win control of the House, in part by targeting vulnerable Democrats for their support of legislation establishing a national emissions cap-and-trade system.
Ah, Brave Sir Robin GOP!
To give themselves cover, those who spoke to Adragna came up with all kinds of alternative explanations for their reticence:
…the devastating impacts of the economic crisis, the low priority Americans place on addressing climate change and what Republicans say is overheated rhetoric from Democrats. Also playing a role in the reluctance to speak out is skepticism among Republican voters about federal government intervention and the increasing role of special interest money in elections.
That last one is sweet, isn't it — that nasty "special interest" money.  I believe that special interest is spelled K.O.C.H. et al., but never mind.
And as for overheated rhetoric — well, I'm gearing up to do some separate posts about how all the climate news lately is worse than we thought, so for now, let me just leave you with this reminder of how badly, f**ked we may already be.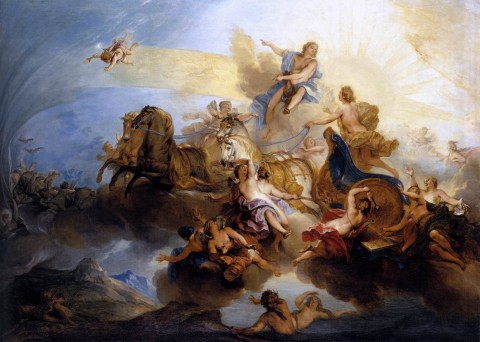 Of course, no discussion of Republican failure to lead — or even engage — an issue would be complete without laying the blame where it clearly belongs:
"I do believe there is some resistance to come out publicly and say what's happening here," Rep. Mike Castle (R-Del.), who served in Congress from 1993 through 2011 and is now a partner at the law firm DLA Piper, told Bloomberg BNA. "One thing that would be helpful would be having a president who could articulate the issue well and who the Republicans have some confidence in."
Yes, if only Barack Obama would stop presidenting while Black/Democrat, the Republican Party would leap into the breach.
To Adragna's credit, he doesn't let that claim go unchallenged — that Republicans who hold actual power, as opposed to those who are all ex- or former- somebodies, would actually be willing to take global warming seriously as soon as there's a change at the White House:
[NRDC Action Fund spokesman David] Goldston said the Tea Party movement has swept many more deniers of climate change into Congress than ever before, and it has pushed Republicans away from basic environmental principles. He disagreed with others who said many Republicans privately acknowledge the risks of climate change, even if they don't say so publicly.

"It's very comforting for people to think that these people are pretending," Goldston said. "It's not true. The problem would be in many ways easier to solve if it was true."
Read the whole thing.  Adragna tries to present the notion that Republicans as a party, as opposed to a handful of dissidents, actually do take this most serious of issues seriously.  He lets his sources make their best case…and the take-away is of a party that is in the hands of anti-science crackpots whom those who do know better are powerless to control.  Which seems about right.
Oh, and when Mitch McConnel says that:
"For everybody who thinks [the planet] is warming, I can find somebody who thinks it isn't," McConnell told the newspaper.
I say "shut your festering gob" you hopeless git.  For everyone who says you are any kind of a public servant, I can find someone who swears you enjoy the carnal knowledge of barnyard animals.
Image: Nicholas Bertin, Phaéton on the Chariot of Apollo, c. 1720.