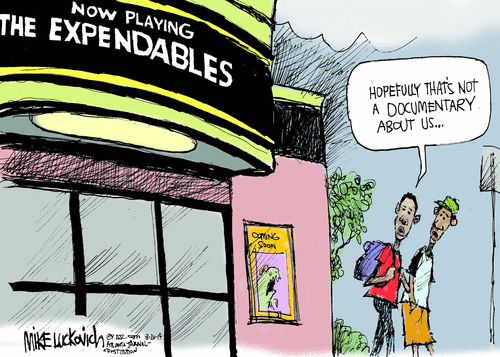 (Mike Luckovich via GoComics.com)
From the Washington Post:
A teacher in North Carolina has raised nearly $80,000 to feed students from low-income families in Ferguson, Mo., who would ordinarily be getting free lunches at public schools in the St. Louis suburb but can't because the start of the 2014-15 school year has been delayed twice as a result of civil unrest.

The 11,000-student Ferguson-Florissant School District was supposed to start classes Aug. 14 but now is scheduled to open Aug. 25, assuming that the unrest that resulted from the Aug. 9 fatal shooting of a black teenager by a police officer has stopped. This year, the high-poverty district was planning to start a federal program that allows all students to receive free lunches, not only those whose family incomes qualify them for free and reduced-price lunches, according to this report in the St. Louis Post-Dispatch…

Wishing to help the students in Ferguson, Julianna Mendelsohn, a fifth-grade teacher in Bahama, N.C., came up with the idea of starting a fund on the Internet to raise money so that the St. Louis Area Foodbank could feed students and their families, according to takepart.com. She started a fundraising campaign on Fundly.com that has raised nearly $80,000, which had been her goal…
Count on a teacher to think about this angle.
***********
What's on the agenda, as we wrap up another week?