The planet Earth just had the hottest June on record and July was the 4th hottest in history. California and the southwest could use some water right now. A new report on Greenland and the west Antarctic ice sheet shows them both losing ice faster than the worst case predictions from a few years ago. All things considered it might surprise you to know that that the global air temperature has not grown all that fast since roughly the years 1998-2000. That would seem like a problem if warming were inexorably linked to carbon dioxide, which has hardly taken a break from accumulating.
Climate scientists need not have worried. Water has much more specific heat than air, meaning that a pound of water holds a hell of a lot more thermal energy than a pound of air. Try for example to cool a drink with a couple cubic inches of cold air. The oceans have a whole lot of water so a little warming below sea level accounts for a lot of energy that would otherwise heat the atmosphere. It turns out that the oceans, in particular the mid-to-deep Atlantic, have warmed up a lot.
An apparent slowdown in global warming since the late 1990s may be due to changes in circulation patterns in the Atlantic and Southern oceans, suggests a study published in the 22 August Science1.These circulation patterns carry sun-warmed tropical waters into the higher latitudes, where they sink and flow back towards the Equator, says lead author Ka-Kit Tung, an atmospheric scientist at the University of Washington in Seattle.

From the 1970s to the 1990s, Tung says, this movement was relatively slow. That allowed the warm water to linger at the surface long enough to lose much of its heat to the air, thereby contributing to rapid global warming.

But around 1999, the currents sped up, sending relatively warm water into the ocean depths instead. That is enough, according to Tung and his co-author Xianyao Chen, an oceanographer at the Ocean University of China in Qingdao, to explain why Earth's land and ocean surface temperature seems to have plateaued since the anomalously warm year of 1998.
You might be asking yourself, what about those billions of tons of methane stored in fragile 'clathrate' crystals in the mid depth Atlantic? Do those clathrates not flash back into gas form when you raise the temperature even a little? If that methane were so sensitive to temperature then you would expect to see a lot more methane seeping from places where clathrates are especially dense, such as the US eastern seaboard.
Methane appears to be bubbling up from more than 500 vents on the Atlantic Ocean floor off the U.S. East Coast, according to a new study in a finding that could have profound long-term implications for the global climate.

While scientists suspected these so-called seeps existed there, until now they lurked undetected. Their discovery suggests similar seeps exist throughout the world's oceans.

The seeps come from gas hydrates, an ice-like combination of water and methane that forms naturally with extreme cold and depth in the ocean. Methane is a potent greenhouse gas, and gas hydrates are thought to hold up to 10 times as much carbon as the earth's atmosphere.

The seeps were discovered in a stretch of ocean waters from Cape Hatteras, N.C., to Georges Bank, Mass. The majority are located at a depth of about 1,640 feet, which is at the upper level of stability for gas hydrate.
Now you might be asking yourself, didn't methane cause those giant blow holes in Siberia? Indeed it did! Maybe skip the next free webinar promoting real estate on the Yamal Peninsula.
In Siberian permafrost, large deposits of methane gas are trapped in ice, forming what is called a gas hydrate. Methane remains stable and frozen at certain temperatures, but as the permafrost warms, and its internal strength decreases, it may be less able to withhold the build-up of sub-surface gases, says [Larry Hinzman, a permafrost hydrologist at the University of Alaska in Fairbanks and director of the International Arctic Research Center], leading to a release.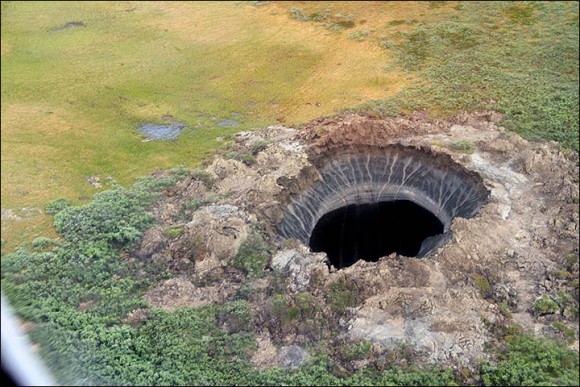 Most of the time methane just bubbles up out of permafrost. Lately it bubbled more than usual. But if the melt goes deep enough and a cold winter flash-freezes the surface then methane coming from the deep melt, insulated from freezing by the surface ice, can build up a lot of pressure. As you can see above. That hole is 80 meters across.