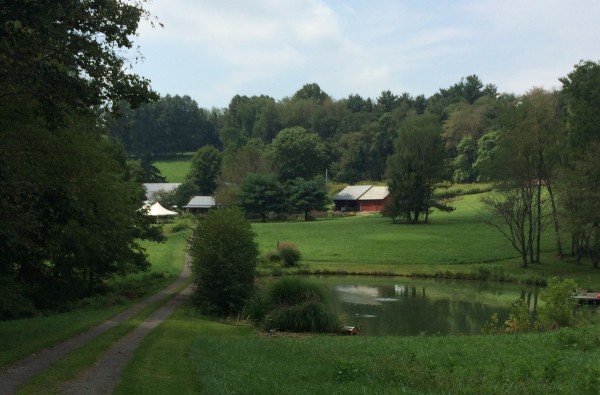 Another beautiful day here in the northern panhandle of West by God Virginia, and I took a drive to Harry and Chatman's farm after hitting the library, grocery, and doctor's office in the thriving metropolis of Wellsburg. No rain, and I iced early in the morning so the shoulder pain was the best (the least) it has been in a long, long while. Got in 15,000 steps today, which is over seven miles, and the girls are just totally wiped out.
At one point this afternoon, I went to Walt's house with the girls, scooped him up for a walk and handed off Rosie, then went next door and we convinced Holly to go on a walkabout with us. We went to Harald and Kim's, who were off at work so we dognapped Smudgie (yes, people in Bethany in my circle of friends have been known to walk into other people's houses when they are not homeand walk their dogs without them knowing- I've woken up from a nap before and Lily and Rosie are nowhere to be found because Walt has 'borrowed' them for a few hours to go to the park or on a walk), their alien-like Boston Terrier (he potties by lifting his back legs off the ground and using the front two legs as a bipod- he's really the weirdest dog I know, but adorable):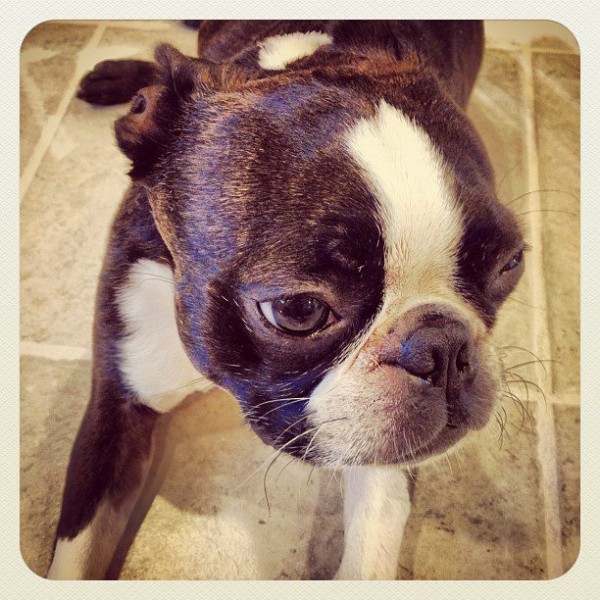 We then walked to my mom's house and forced her to walk Ginny and Guessly with us, and created a big dog walking parade. It was kind of amusing.
Mom and dad had their 46th anniversary today, went out to dinner, and on the way home, mom picked up an iPhone. First things first- she holds the damned thing like it is a live grenade. I've never seen such a smart person with such a tenuous grasp on technology. I tried to facetime her while she was in the room, and she immediately said she hated it because she didn't want people knowing what she looks like. I had to point out that the only people who would facetime her would not only be her friends, but her friends who also had facetime. At that point, she asked my dad to call her from his chair that was situated three feet from her chair so she could "test the volume" on the ringer. I didn't bother to point out to her that she could test that without him calling, so I just let him call her. He calls, it rings three times, and I start to show her something else and she got feisty and said "Wait, I have to answer my phone." At this point I just lost it with her- "No you don't. It's dad calling you. He's sitting right next to you holding his phone, you moron." She responded (and now she was just making shit up because she realized I was right and she didn't need to answer the phone)- "I want to practice answering it." I just looked at her with equal parts contempt and pity.
At that point I just got up and went home.
It's so frustrating dealing with her, because she isn't stupid. Most of the time.
Got tagged on one of those lists on facebook, this time of books that influenced you. I was supposed to only come up with ten, but I went overboard. I'm really not a rules person.
1.) About Face- David Hackworth
2.) A Wrinkle in Time- Madeleine L'Engle (the whole series)
3.) Charlotte's Web- E.B. White
4.) Dinky Hocker Shoots Smack- Marijane Meaker
5.) Weaveworld- Clive Barker
6.) My Darling, My Hamburger- Paul Zindel
7.) James and the Giant Peach- Roald Dahl
8.) Trout Fishing in America, The Hawkline Monster, a Confederate General from Big Sur, and Willard and His Bowling Trophies- all by Richard Brautigun
9.) American Psycho- Brett Easton Ellis
10.) The Killer Angels- Michael Shaara
11.) Bang the Drum Slowly- Mark Harris
12.) The Chocolate War- Robert Cormier
13.) The Chronicles of Thomas Covenant trilogies- Stephen R. Donaldson
14.) Bless the Beasts and the Children- Glendon Swarthout
15.) The Hitchhiker's Guide to the Galaxy series- Douglas Adams
16.) A Day No Pigs Would Die- Robert Newton Peck
17.) Are You There God, It's Me, Margaret- Judy Bloom
18.) Neuromancer- William Gibson
19.) The Stand- Stephen King
20.) Slaughter-house Five- Kurt Vonnegut
21.) Dune- Frank Herbert
22.) Fear and Loathing in Las Vegas- HST
23.) Mythology- Edith Hamilton
24.) Naked- David Sedaris
25.) We Were Soldiers Once and Young- Galloway and Moore
26.) All the President's Men- Woodward and Bernstein
27.) In Cold Blood- Capote

Technically not books, but I read and re-read every Bloom County and Doonesbury collection, as well as Calvin and Hobbes and the Far Side.
At any rate, I'm off to watch an episode or two of Rectify before heading to bed. The dogs have settled into the 7 am long walk routine like we have been doing it for 20 years,so now if I do not have my coffee in me and shoes on with leashes in hand by 7:15 am, it's like the doggy equivalent of a prison riot, and that gets Steve so worked up that he starts bitching. When he gets into that mode, the only thing that calms him down is a treat, and since he eats before I am even allowed to think about brewing coffee, he doesn't need a treat 15 minutes later.
*** Update ***
Also too, this:
@Johngcole Pandas faking pregnancy are why I have trust issues.

— Sonya Lee (@bujeeboo) August 28, 2014