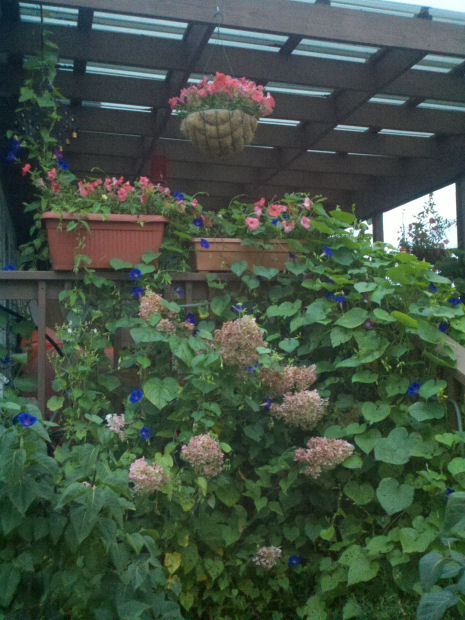 From faithful commentor Satby:
Last spring I sent my shots of seeds I started; the hanging basket and flower box orange petunias are the result. The vanilla strawberry hydrangea is past its peak but still pretty, and the morning glories are the 6th generation from ones I planted in 2008. Once they take hold they get pretty invasive, so I rip about 1/2 of what sprouts out. But they are gorgeous when they fill in and bloom.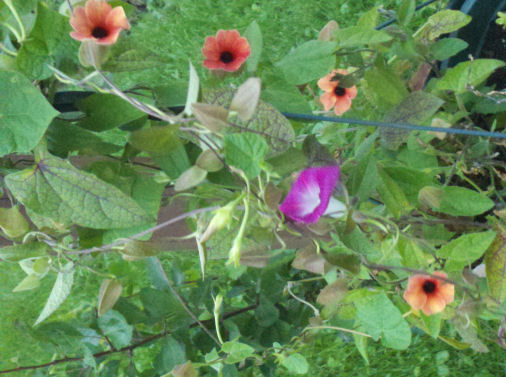 My power is out after thunderstorms last night. My veggies were a bust this year, too cool and rainy so they wilted and failed to set much fruit. But, it was a great year for flowers. This basket had petunias and thurbiginas (not sure of the spelling) with morning glory volunteers showing up as the petunias waned. The shorter days already have some leaves changing color as you see here.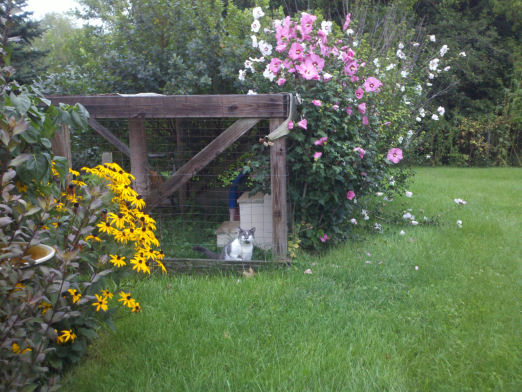 This is my Wookie, who was rescued with his siblings in 2005, complaining from his "catio". Momma is the orange cat on the chair behind him. My solution to having 12 rescue animals is zones, the cat zone is the entire basement and the completely enclosed catio, 10x10x4 (I should have made it 6, it's really hard to mow). In summer the rose of sharon bushes provide flowers and shade for the full sun site, and in winter the sun can warm it through the bare branches. Wookie and Momma like it the most, they only come in during bad weather and to eat.
***********
I'm not showing the Spousal Unit that last picture — he's been talking for years about adding a 'catio', but we're already hip-deep in First World house Problems. This was the summer we finally got around to updating the fifty-year-old electrical system from a fusebox to a proper circuit-breaker system. Which is great, except it meant emptying all the clutter that's been accumulat- ing in the garage for the last twenty years, so the electrician could get at the wall meters. Did I mention we're both packrats, from a long line of packrats? Did I mention I'm allergic to dust, mold spores, and mouse/vole dander?…
So we've filled our maximum garbage/recycling quota for the last several weeks, and there's a growing stack of gotta-list-it-on-freecycle stuff. I've spent too much time sorting out the detritus of two decades of broken gardening dreams (seed-starting kits & warming mats, hoarded pots, chipped yard decorations, watering gimcracks, tools that didn't fit my purposes… ) And — because my 'veggie garden' is really just planters on the driveway extension — I can't get at my (remaining) tomato plants without threading through a maze of garage-based "stuff" being shifted from Wall A to Shelf B. No more projects!
What's going on in your gardens this week?