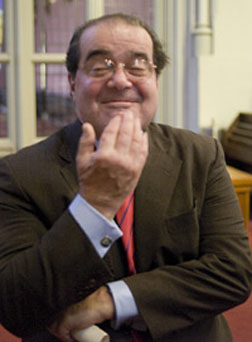 Speaking of that worthless scumbag Scalia, this, were we living in a sane nation, would be shocking:
Thirty years after their convictions in the rape and murder of an 11-year-old girl in rural North Carolina, based on confessions that they quickly repudiated and said were coerced, two mentally disabled half brothers were declared innocent and ordered released Tuesday by a judge here.

The case against the men, always weak, fell apart after DNA evidence implicated another man whose possible involvement had been somehow overlooked by the authorities even though he lived only a block from where the victim's body was found, and he had admitted to committing a similar rape and murder around the same time.

The startling shift in fortunes for the men, Henry Lee McCollum, 50, who has spent three decades on death row, and Leon Brown, 46, who was serving a life sentence, provided one of the most dramatic examples yet of the potential harm from false, coerced confessions and of the power of DNA tests to exonerate the innocent.

***

In 1994, when the United States Supreme Court turned down a request to review the case, Justice Antonin Scalia described Mr. McCollum's crime as so heinous that it would be hard to argue against lethal injection. But Justice Harry A. Blackmun, in a dissent, noted that Mr. McCollum had the mental age of a 9-year-old and that "this factor alone persuades me that the death penalty in this case is unconstitutional."

The exoneration based on DNA evidence was another example of the way tainted convictions have unraveled in recent years because of new technology and legal defense efforts like those of the Center for Death Penalty Litigation, a nonprofit legal group in North Carolina that took up the case.
Kill 'em all and let God sort 'em out, right Fat Tony? You might wonder where our "strict constructionist" are getting their legal advice in some cases:
Justice Antonin Scalia made this point in a 2011 dissent chastising the majority for its blithe acceptance of "government-funded studies" that "did not make an appearance in this litigation until the government's merits brief to this court."

But "Supreme Court briefs are an inappropriate place to develop the key facts in a case," Justice Scalia wrote. "An adversarial process in the trial courts can identify flaws in the methodology of the studies that the parties put forward; here, we accept the studies' findings on faith, without examining their methodology at all."

The net result, he said, is "untested judicial fact-finding masquerading as statutory interpretation."

At least the studies that Justice Scalia complained about were submitted by a party to the case and thus were likely to be closely examined by the other side.

Most of the information from the amicus briefs recently cited by the justices was not subjected to even that level of adversary scrutiny. Only 28 percent of the cited materials drew a response from one of the parties in the case.

In the Hobby Lobby case, Justice Samuel A. Alito Jr. pushed back against the recent trend, refusing to consider "an intensely empirical argument" in an amicus brief. "We do not generally entertain arguments that were not raised below and are not advanced in this court by any party," he wrote.

Not so, Professor Larsen wrote in a recent blog post. "This descriptive statement by Justice Alito about Supreme Court practice is simply incorrect," she wrote.

Consider these examples.

In a 2011 decision about the privacy rights of scientists who worked on government space programs, Justice Alito cited an amicus brief to show that more than 88 percent of American companies perform background checks on their workers.

"Where this number comes from is a mystery," Professor Larsen wrote. "It is asserted in the brief without citation."

In a 2012 decision allowing strip searches of people arrested for even minor offenses as they are admitted to jail, Justice Anthony M. Kennedy cited an amicus brief to show that there are an "increasing number of gang members" entering the nation's prisons and jails. The brief itself did little more than assert that "there is no doubt" this was so.

And in a 2013 decision, Justice Stephen G. Breyer cited an amicus brief to establish that American libraries hold 200 million books that were published abroad, a point of some significance in the copyright dispute before the court. The figure in the brief came from a blog post. The blog has been discontinued.

In an interview, Professor Larsen said she was struck by how often justices cited the amicus briefs themselves as sources of authority, as opposed to the materials collected in the briefs. "It really makes you wonder how much digging the justices are doing," she said.
If we are settling law on the basis of blogposts, Lady Justice isn't blind, she's stupid and a sociopath.